Beware of the 'International Australian Lottery' scam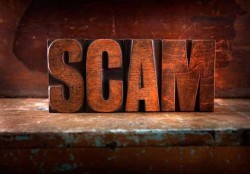 The authorities have raised an alarm over a fake Australian lottery targeting elderly Americans. The scammers maliciously take advantage of the physical and mental health status of senior citizens and flees away their life savings. The authorities have raised the alert after several victims who are mostly from retirement homes, losing thousands of dollars to the scam.
According to preliminary investigations, the con artist is based in Canada and it from the there where they operate the scam. The scam operates by sending mail to their victims and informing them that they are winners of the 'International Australian Lottery'. After a series of calls from the scammers the victims are instructed to wire funds for 'processing' the winnings.
To hide their identity, the scammers instruct their victims to wire the funds to a swiss bank account. It is through this that it has become difficult to expose members of the scam ring. The latest victim to fall prey to the scammers is 89-year-old woman from California who was duped into wiring some $70,000 to the scammers.
The lady sent the money after she was called and informed that she was the latest jackpot winner of the Australian Government lottery. She was further instructed to open an account where she would send a processing fee of $70,000. The calls by the scammers seized after she sent the cash and out of suspicion, she informed the police of the event.
The US police are however working closely with the Canadian authorities to bring the schemes to book. So far the Canadian police have arrested four notorious spammers and they're helping the police with investigations on the matter.
This comes hardly a week after the Jamaican government stepped out their efforts to stop the Jamaican lottery scam. The best way to protect yourself from the scam is playing the lottery at only reputable lottery vendors.
Comments
comments