Wyoming Lottery will start selling tickets by April 2014
Last updated on January 20, 2014 by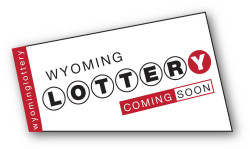 Nationwide, US lotteries function by following a set of strict rules and all of them are run by the authorities, which means that the state has a monopoly over these games of luck. Wyoming residents are still deprived of a chance to play their favorite game within state borders, and that's why they frequently cross them to Colorado to purchase tickets. This leads to a lot of money being lost by local authorities and that's why the legislators decided to change the law to allow Wyoming Lottery to sell tickets by April.
Both Powerball and Mega Millions to be introduced
Earlier this month, with the Mega Millions jackpot climbing to new highs, Wyoming Lottery players crossed the border into Colorado to purchase tickets. To some extent, money went down the drain, because instead of being directed to underfunded projects and properly taxed by local regulators, it went to their neighbors. As a result of Wyoming players spending a lot of money in Colorado, many businesses located here are now very lucrative and to some extent depend on the money spent here by visitors.
This could all change as soon as April 2014 as lottery officials are confident that the legislators will change the laws by then and create the legal framework necessary for selling tickets. The biggest concern for lottery enthusiasts is whether they will be allowed to buy Powerball and Mega Millions tickets and so far the news are promising. On the flip side, scratch off tickets will be off limits, but this is a small price to pay for those who hope to win a fortune while investing a minimal amount.
$20 million per year worth of taxes
Early estimates suggest that if Wyoming Lottery will start selling tickets in 2014, the first year will generate a profit of at least $20 million. The amount is going to increase steadily as state residents will change their habits and play the local lottery instead of traveling to Colorado, but the government took some precautions. $6 million will be guaranteed by the lottery regardless of how the games perform and this is an essential condition for passing the favorable laws in the next couple of months.
This is not the first attempt made by state legislators to regulate lottery games in Wyoming, but so far their efforts had no palpable consequences. Creating the legal framework is only the first step and Wyoming Lottery officials are fully aware of the fact that they would have to overcome many obstacles before making the games profitable. The good news is that the interest for the lottery is tremendous in the state and players have been anxiously waiting for a long time to be allowed to purchase lottery tickets.
You May Like