Why Luck Alone Will Never Be Enough to Win the Lottery
Last updated on July 12, 2015 by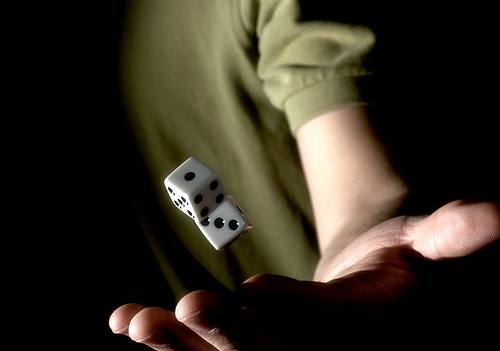 Playing the Lottery is a Marathon – Not a Sprint
Almost 99% of the winners of a huge lottery prize have been buying lottery tickets for quite a long time before they got what they wanted, the colossal jackpot. Sure you can go out and buy your own lottery ticket, but chances are you won't win a single cent or penny.
And you thought it's easy?
There are various factors that can give you huge advantage over other lottery players. Some can guarantee you a certain jackpot; others will increase your odds to make a certain winning.
But it's not all about luck! You have to do your homework. It may not take as long as a boring school lesson, however, be prepared to endure the pressure. During this long "fight" you can start feeling as quitting is the best way out and what do you know, the next draw has your numbers. All you get from this is a catch line: "I could've won the lottery once; I can win the lottery again!"
Don't let this happen to you!
Luck is When Opportunity Meets Preparation – Get Your Numbers Right
It's like having a bachelor's degree and being unemployed, you are prepared for a job opening.
Now, now, easy there, we're not talking about a drill camp or something. But a little common sense can improve your odds, or should I say, your luck, exponentially.
Few extra minutes of research and some relaxing input on what are the past trends can give you a better insight of what numbers you should be playing. This isn't luck? It's somewhat of science, but with a huge prize at the end of the line and we all want to win it.
There's more.
So you have your numbers and you have a good feeling about them. Because of some unknown reason you didn't buy a ticket with that number combination. Luck won't do anything if you don't prepare yourself. It will give you the opportunity, all you have to do is take it and make the basic preparations.
Funny thing is there've been situations in which people would enter a different number combination than the one they wanted to play. You see, it's not just about preparations; it's about being careful too. Come on people, it can happen to anyone!
Luck is Relative, the Jackpot is Absolute – Be an Absolute Winner
If you think luck is enough to win the lottery, and then by know every 2nd person should've been a lottery winner and in some cases a huge jackpot winner. Should I tell you this isn't true or you already know it?
Good, I thought so.
Now say you think your birthday date holds the secret to the next winning combination. You buy a ticket with it and wait for the weekly draw. Yes, you've won, but so did other 50 people. See? It's relative and so will be your winnings. This prize will probably not change your life dramatically. But, hey! A win is a win, embrace it.
On the other hand, if you want the jackpot all for yourself take a step further. There's a quote I really like to use in this kind of situations: If you want to walk on water you first have to get out of that boat of yours". In other words, stand out of the crowd and do the impossible. Dwell into any other factor that can make your combination better. Luck can't win you the lottery, you can when the draw numbers match the one on your ticket.
Luck Is Overrated – Your Efforts Are Not
I hate those people who whine about not winning the lottery and they haven't even bought a ticket. I wonder if they know that you should do that first.
"I wish I was that lucky and win the lottery", have you heard it before? You probably have and from a person who wants to get a winning lottery ticket as a birthday present. Chances are the same person will throw the ticket away without even waiting for the draw. "You bought me a lottery ticket? How cheap are you?"
In time you'll become a better player. It's not chess, I know, but you'll anticipate the numbers of the next draw. Your number combinations will get better and better and eventually the reward for all that effort will come to you.
However, waiting to get lucky without doing a thing that will change your playstyle from the previous week won't take you far. You won't even feel good for taking that approach. Who knows, maybe you'll learn something new in the process of researching that can come in useful in other areas of your life.
You Can Call Yourself Lucky – You've Probably Done Something Right
Yes, yes, it takes a bit of luck to win the lottery, but it's not enough.
Bottom line is, does it matter once you win the jackpot? You can say you got lucky, Ms. Fortune was on your side yada yada yada, but you've probably done something different than the rest that is if you are the only winner of the jackpot.
If I one day win the lottery, honestly I'd be out of my mind. How I won would be my last concern. Now, go ahead and get a lottery ticket and may luck be on your side. Got you!
You May Like