When Luck Runs Out – the Chung Family Lotto Scam
Last updated on May 27, 2018 by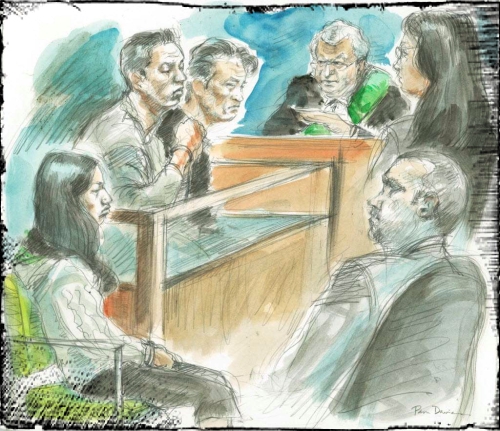 Many people will try their hand at literally anything to get a lottery win. Most people's attempts will be above board, whether it's simply entering lots of syndicates, or purchasing multiple tickets.
However, some people – and indeed some whole families are not content with that. In a story that first broke some seven years ago, we investigate the crimes of one particular family and their attempts to fraudulently win big.
Here's what happens when luck runs out – the Chung family lotto scam.
The Chung Family Story
It seems the luck of the Chung family finally has come to an end. Their story starts around fourteen years ago after an insider lottery scam was discovered that meant tickets were stolen and money – it's believed up to $12.5 million was fraudulently claimed.
A man by the name of Kenneth Chung, who operated a Variety Plus in Burlington and Jun-Chul Chung, who was employed to work there by his son part-time, were both found guilty this week of stealing lottery tickets during an eight-month period which came to a conclusion fourteen years ago in February 2004.
Father and Son
Jun-Chul Chung, his son Kenneth Chung, and daughter, Kathleen Chung, were all involved in a huge lottery swindle which netted them some $12.5 million in money that wasn't rightfully theirs.
In court, their father was convicted of stealing the winning $12.5 million ticket in December 2003. He was found guilty alongside his daughter Kathleen Chung, who admitted to falsely claiming the winnings and also of possessing stolen property and fraud.
All three members of the family were acquitted on a charge that they then tried to hide the money in offshore bank accounts in South Korea.
Ontario Superior Court Justice Douglas Gray wrote afterward that "There is no doubt, in my view, that the evidence discloses a scheme to steal free play lottery tickets,"
Their Fraudulent Scheme Hit the Jackpot
But for a long time, it looked like their scheme had actually hit the jackpot and they'd got away with their misdemeanors without being detected.
The winning lotto ticket they claimed to have bought could be traced to a series of four tickets that were purchased by one person, revealed as most likely to be one Dan Campbell, who hailed from St Catharines on Dec. 19, 2003. All four of the tickets were checked at Chung's variety store three days later and ended up with five three play tickets being issued.
However, Campbell was actually only given four of them. They were all later validated together in St Catharines, the court ruled. The fifth (and missing one) which was checked at Chung's store ended up as the winning ticket.
Stolen Winnings
"It is clear, in my view, that there is only one reasonable conclusion. The winning free play ticket was kept by Jun-Chul Chung for himself after he validated all of the tickets on December 22, 2003.  In so doing, he stole that ticket from its rightful owner." Justice Gray commented.
At the beginning of February 2004, Kathleen Chung came to the Ontario Lotto Group prize office in Toronto to claim the $12.5 million prize. Initially, she said she was no relation to Kenneth Chung at the Burlington store and said she hadn't bought the ticket from the store in Burlington.
However, she later confessed to lottery officials that her brother managed that same Burlington store and she then started to claim she 'may' have bought the ticket in the St. Catherine's area whilst she was out making deliveries for her father's business.
OLG Pay Out
Misgivings and reservations aside, it seems that alarmingly, the Ontario Lotto Group paid her in December 2004.
It seems that then, most of the money was transferred to Seoul where the Chung family's aunt lived, the court ruled. The money was then used to buy multi-million dollar mansions in Oakville and Thornhill as well as several luxury cars.
At the trial, the judge concluded the winning ticket could not have been hers.
"Kathleen Chung has lied throughout about her purchase of the original ticket and the validation of the winning ticket. Apart from the OLG computer records, her cell phone, banking and Visa records show that she could not have been where she said she was at the relevant times. She obviously lied to the OLG personnel about being the legitimate owner of the ticket, and how she came to possess it. She knew the ticket was stolen." Justice Gray said in his summing up
Her brother was acquitted on all charges involving the winning ticket after the judge found the Crown hadn't proven beyond a reasonable doubt that Kenneth Chung was in his store at the time or even knew for sure it was stolen.
One of the Most Unscrupulous Fraud Cases in Lotto History
As far back as 2007, the Chung case was highlighted as one of the most shocking examples of unscrupulous store clerks fraudulently claiming millions in lottery prizes in a report by former Ontario Ombudsman André Marin. He went as far as to accuse the Ontario Lotto Group of being "too cozy" with its retailers and paying out $100 million to "lottery insiders."
It was only after public outcry that the OPP launched an investigation and charged the Chungs back in 2010.
However, the rightful winners of the ticket did not go without. It came a year later than expected but Campbell and his six friends who worked together on a building site and had purchased the ticket ended up with the money they had rightfully earned and also got interest on the win too.
No Comment from the OLG
OLG declined to comment on the verdicts "as we have entered the sentencing phase of the trial." Their spokesman Tony Bitonti also declined to comment on the agency's lawsuit to recoup the $12.5 million. "It is important to remember that the accused's assets have already been frozen through the criminal court process. At present, OLG's civil suit is temporarily on hold until such time as the criminal trial process is completed."
Sentencing is scheduled for September 2018.
You May Like