Hope in Humanity Restored: The Shetara Sims Story
Last updated on August 20, 2020 by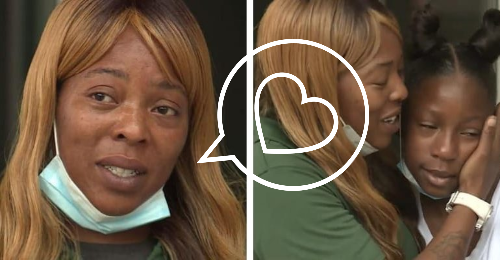 Some of the people who face the hardest struggles in life are those endowed with the biggest hearts. Shetara Sims is one such person. Her story is so incredibly touching that it deserves to reach everyone.
And we promise – the things that Shetara Sims did are going to melt your heart a little bit and restore your faith in the decency of the human race.
Using Your Good Fortune to Help Others
Shetara Sims is a struggling single mom from Kansas City, Missouri. Before making news headlines, Shetara found herself in a dire situation. Upon examining her finances, the mom of one discovered that she was left with only seven dollars for the month.
Eventually, Shetara discovered a single dollar at the parking lot of her grocery store. She used the money to buy a Kansas lottery ticket.
Now, you may think that Shetara quickly became a lottery millionaire, but that's not the case.
The ticket she bought entitled the struggling mom to a modest reward of 100 dollars. Instead of keeping the money, however, and getting essentials for her family, Shetara decided to go down another road.
Consulting her 12-year-old daughter Rakiya Edmonson, Shetara decided to donate the entire sum to a wounded police officer. There was a big reason why Shetara and Rakiya made that particular choice, giving the money anonymously to better somebody else's life.
A Family Tragedy Changes the Course of History
In 2012, Shetara Sims lost her oldest daughter. Kariya, Rakiya's older sister, was killed at the tender age of 19.
Numerous police officers were assigned to work the case. According to Shetara Sims and her surviving daughter, the law enforcement professionals assigned to the investigation soon turned into family members. They offered the two distressed women support and guidance at a time of darkness and grief.
Shetara and Rakiya never forgot the support and kindness they'd received from police officers.
In an interview, Shetara told the media that the police officers
"came to see my kids. They did a lot. They were fathers, therapists. They were everything."
She never forgot the support and kindness that she had received during one of the most challenging periods for her family.
On July 2, 2020, Shetara found out that a local Kansas City police officer was shot in the head and injured critically. She immediately called the police department to find out how the policeman's family could be assisted. After all, kindness is about paying it back and paying it forward.
At the time she made the phone call, Shetara had just been laid off due to the Covid-19 pandemic and the social distancing measures introduced to counter it.
Even though she'd lost her job, Shetara stuck to donating her little lottery fortune.
At the police department, officers urged Shetara to keep the money and take care of her family. She refused and insisted on donating.
A Little Good Deed Goes a Long Way
The heartwarming story of Shetara doesn't end here.
Shetara's incredible gesture so touched the police department representatives that they decided to help her family out in some way.
It took some time for the campaign to go in full effect. When she went to donate her 100 dollars from the Kansas Lottery, Shetara did not leave a name or an address for future contact. Still, police officers were eager to track her down and do something great for the lady with a heart of gold.
To make the project easier, the local police department shared the heartwarming donation story on social media. Hundreds of people responded to the account, asking how they could help Shetara and her daughter.
The department did one of the simplest but most effective things – they launched a GoFundMe crowdfunding campaign for Shetara and her daughter. Little did they know at the time that by July 23, the funds in the account would reach 97,000 dollars.
At the time of writing this article (August 15), the sum has swelled up even further – to the incredible 163,380 dollars. There have been more than 4.4K donors making a conscious effort to support a mom and daughter duo in Kansas City.
Happy Endings for Everyone
While life doesn't always bring good outcomes to those who truly deserve them, the story of Shetara Sims suggests that doing good pays back.
With the GoFundMe campaign still being active, Shetara and her lovely young daughter will be ok for the near future. And since she has won so many new supporters, Shetara would probably benefit from opportunities that would have never become available to her otherwise.
As for the wounded police officer that she decided to help, there are also positive developments in his story.
On August 11, 2020, the Kansas City Police Department added an official update on the GoFundMe page.
According to the note, the injured police officer was eventually stabilized and taken out of critical care. Recently, he got discharged from the hospital. Anyone willing to support him and his family can donate a separate web page set up for the purpose. As of August 15, the campaign has generated over 12,500 dollars (donated by 198 people and entities) to support the full recovery of officer T.
We hope that more stories of people paying it forward are inspired by the magnificent act of Shetara Sims and Rakiya. And as you can see, kindness doesn't have to be massive to change lives. Sometimes, a single lottery prize of 100 dollars can turn destinies around.
You May Like