Marie Holmes – The Powerball Winner Who Was Bribed, Bailed and Bullied
Last updated on July 14, 2019 by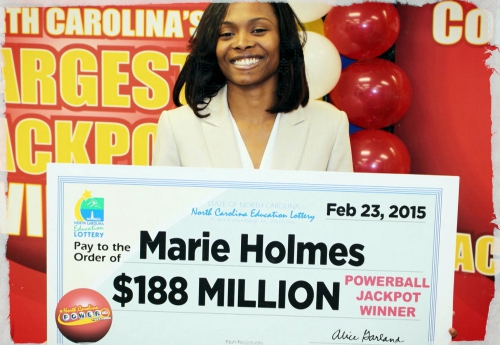 Putting your lottery winnings to good use – that's what many people who make a big lottery win say they'll do. Whether it's helping friends, family or even strangers to live a better life. Some winners give a lot to charity or other organizations in need of help and support.
Supposing you'd won a huge jackpot on the lottery, but used some of the proceeds to get someone out of trouble? That's the story you're going to read about here, as we hear the tale of Marie Holmes, the Powerball winner who was bribed, bailed and bullied.
Holmes Bails out Her Boyfriend
Marie Holmes, a mother of four from North Carolina struck the headlines with a huge $188 million Powerball lottery jackpot in February 2014. In the time since her win became public knowledge, she's used approximately $21 million of this win to bail her boyfriend out of jail – and not just on one occasion either.
When she found out she had won such a huge jackpot on the lottery, Holmes said that she was going to donate as much as she could to charity and also see her children had trust funds set up. Her four children Brayden, Charisma, Andrea, and Ebony, are between one and seven years old. Brayden has cerebral palsy. Holmes had sacrificed her own education to look after her children and also took on many low paid jobs to keep them going.
She had no help from any of the fathers of her children and for all her adult life she has struggled to make ends meet. Holmes' own father was a jailbird, and she had also suffered a tragedy when a beloved cousin was shot and left paralyzed after their home was invaded.
Holmes family have said she will always put others above herself and after the win, her uncle William Bryant said. "Marie is very grounded, and she will know what to do with all that money. I'm sure she will want to buy a new home for herself and her kids, but I can't see any extravagant purchases. She's a nice girl who loves her family and loves her church"
However, that all went awry once Holmes had started bailing out her boyfriend. As well as the bail, the twenty-seven-year-old has also paid an additional $1,470,000 in fees that she won't get back after also paying out a bond for her live-in boyfriend Lamarr McDow who is thirty-one years old.
Holmes has bailed McDow out of jail three times since her win, the last time being this March when she gave a $12million bond payout following his arrest after he violated pretrial conditions before he was due to appear in court on drug-related charges.
She first bailed him out of jail in March 2014, giving up $3 million after he had been imprisoned on charges relating to heroin trafficking. In August, she again gave up another $6 million after he was cited during a raid the previous month. During this raid, Holmes herself was charged with possessing marijuana after cops found traces of the drug in her house along with paraphernalia.
After more charges on McDow came to light in November 2014, she again bailed him to the tune of $10,000. On December 26th the same year he was arrested on a misdemeanor charge of conspiring to arrange a street race. He was booked into Brunswick County Jail this time under a $12 million bond.
Holme's Backstory
Before her big win, the only stability Holmes had was attending Church, after turning to God for answers. It was here she developed a friendship with pastor Kevin Matthews and felt inspired by his prayers and words. Matthews was well known among the residents of Shallotte and referred to himself as the "warrior of Christ.". He had counseled her and always promised the church would be there for her.
Once she had made the huge win on the lottery, she was determined that the church and Pastor Matthews, who had helped her through some difficult times would be supported with money from her win, afterward informing him that she would be donating 10% of her winnings to Pleasant Hill Missionary Baptist Church. In total, she gave up $1.5 million to the church that had given her so much hope.
Many would receive the money gratefully as a bounteous gift and do what they could with it to help others. Pastor Kevin felt that $1.5 million wasn't enough. The greedy priest insisted that it was a meager gesture and that Holmes had verbally offered $10 million. When she refused, he sued her.
Speaking to the press he said "Because of the emotional distress and mental stress they put me through, I had to start taking more medicine for anxiety and depression due to this situation. I didn't see this coming and I think it was a third party that came along and told her not to do this." Holmes was incredibly shocked at the reaction of her pastor. Her local community was also astounded that he could behave in such a way. He became very unpopular, though tried to defend himself by saying "The bottom line.  I just want her to do what she said she was going to do. I want peace and to do what God told me to do. I really feel like a warrior for Christ and people need to be accountable."
He did not do himself any favors.
Holmes Decides to Buy a Home…But Things Get Worse…
Things were already bad for Marie, but about to get worse. She took some of her winnings to buy a large home on a big plot of land. It turned out the plot of land was a former slave plantation and filled with bad energy.
Marie's mother Fontella, was interviewed on 'Iyanla: Fix My Life', along with Marie. It was there Fontella admitted she'd picked the numbers on the winning lottery ticket, though Marie had paid for it herself.
Marie's Love Life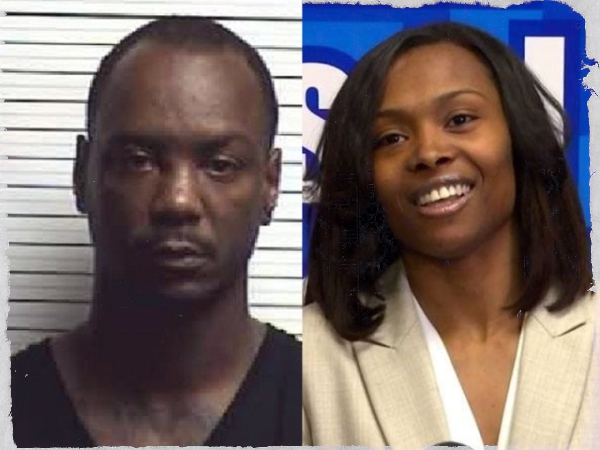 Here's the backstory to how Holmes came to be involved with McDow, the man she bailed out.
Lamarr's nickname was "Hot Sauce," and known as a troublemaker. He'd been initially arrested for selling illegal substances and then ended up in jail for a second time for breaking trial conditions, as we'd already discovered. By bailing him out, many felt Marie was being taken advantage of by Lamarr. He spoke to the press and said, "We are a couple, and I am the father of her youngest child. This is what people do for each other. She has the money, and she can do what she wants with it. If I had that money, then I would do the same for her. People are just jealous because of how much she won, and people want to see me locked in jail."
He knew he was being branded a gold digger, but he decided to rail against the perception. He claimed the money had nothing to do with his feelings for Marie and said that "We were together for two years before she won the Powerball. When money comes, there are more problems."
The story is complicated even further by the events that followed. A woman named Lorna Marlowe came forward and claimed that whilst Marie and Lamarr were together, she'd been sleeping with him. Devastated, Marie didn't know what to do – and ended up paying Marlowe bribe money to keep her mouth shut and stay away from their family.
When McDow was put in jail again, she was once again left holding the fort on her own and told him. "You're not going to be here with me and the kids. I don't want to do it without you, but I will do it."
This time, his latest conviction meant he'd have to spend seven years in jail and there were no bail options, meaning Holmes couldn't get him out of serving his sentence. It appears that $21 million she'd spent had really all been in vain.
Holmes Lottery Win Has Caused Nothing but Unhappiness
If all that wasn't enough, Holmes has also seen the trouble with her own family – created all because of the win. Her extended family members had made the audacious claim that Marie had stolen the winning ticket from her Grandmother, who was ninety. Marie denied this and so far, it appears there is no truth in these rumors.
Next, a cousin of hers made a scathing YouTube film in which she went on camera to claim Holmes was untrustworthy and she had a secret tryst with one of her other cousin's husbands.
No truth was ever proved here, though Holmes felt it necessary to bribe the cousin with money to keep quiet.
Marie Holmes story is a cautionary tale that winning the lottery does not bring everything you could wish for. In some cases, all it does is bring unhappiness.
May feel Marie should have handled the money better, consulting a lawyer and financial adviser to make sure she'd made sound investments and decisions. She's been taught some harsh life lessons and we can only wish her well for the future and pray she can stay on the straight and narrow now.
You May Like