Lucky Tip Lottery Winners: How Much They Won?
Last updated on July 21, 2019 by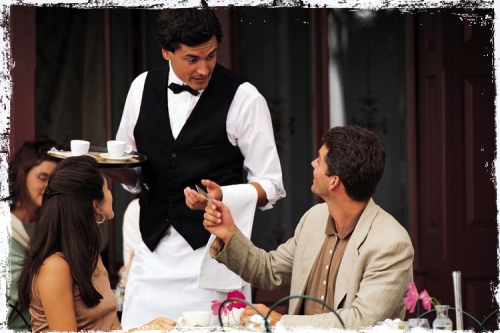 Most people have to go out to a store and buy a lottery ticket if they want any chance of winning a big cash prize. For some, it's no big deal and not so much of a layout, but for others, it's still a considered purchase.
Some people, particularly those who work in retail or hospitality are lucky enough to have lottery tickets gifted to them in lieu of a tip. Occasionally, these people drop lucky and win huge cash prizes. Here are the stories of 4 lucky tip lottery winners.
Springfield, Oregon
Ever wondered what it might be like to have your life reflected in a movie? Well, Aurora Kephart from Springfield in Oregon found out what that feels like when her life turned into "It Could Happen To You"…
The twenty-five-year-old waitress and bartender, who works at the Conway's Restaurant and Lounge in the town regularly receive lottery tickets in lieu of monetary tips from the people she serves. Speaking about one customer who frequents the bar, Kephart says: "He buys multiple tickets and he'll hold out the tickets and say, 'Pick which one you want. That's a normal thing between us."
This same customer recently gave Kephart two unplayed Keno tickets. She won a fairly unremarkable $5 on the first ticket that she scanned. However, she then scanned the second one and realized she had won $17,500.
Speaking after the shock win she said "I automatically handed him back the ticket and I was like, 'I'm sorry. I can't take it! He had me sign it and said, 'You're the only one who can cash it now.'"
Kephart's boss and owner of the restaurant, George Conway said that some customers regret their decision to hand tickets over, in case the bar staff win, but in the case of this particular chap "It's not that way with this guy at all." Aurora, in a kindly and considerate gesture, also gave the man – who wishes to stay anonymous, a cut of her winnings. "I forced him to take it. I'm too humble for that, I absolutely just want to pay it forward. I don't intend to keep all that money for myself."
What will Kephart do with the rest of the cash? She says simply "I have not bought anything, not shoes, not a T-shirt…I have a couple of bills I'm going to pay off, but for the most part, I'm just going to save it. I don't want to blow money just because I came into money." She has, in typically altruistic fashion, donated to a muscular dystrophy fundraiser and she has said she will splurge on a new couch. "I never realized how expensive couches were. Instead of waiting until Christmas or later, now I can buy something I really need."
Though the money is welcome, she can't afford to quit her day job. She might have to wait for another lucky tip ticket to fall into her lap for that!
Baltimore
Sometimes it's a small win from a lucky tip that leads to something bigger. Take the case of the Maryland bartender who received a pair of scratch-off lottery tickets as a tip from one of her customers. She took the $10 winnings to buy another ticket and end up winning $100,000 from that.
The Lottery in Maryland said that the bartender, who wishes to stay anonymous, received a pair of instant tickets as a tip recently, and ending u winning $10 from the scratch-offs.
On her way home, she stopped at an Essex BP station after work, taking her winnings and buying a $10 Super Triple 10s scratch-off ticket, which turned out to be a $100,000 winner.
She said she was so shocked and stunned that she woke her stepdaughter up so she could check that she'd got a winning ticket. "When I realized it was real, I cried. This really comes at a good time."
She also rang her Grandmother to tell her and brought her and her Uncle with her when she went to claim the prize at the lottery headquarters in Baltimore.
The Grandmother commented "This is too wonderful to believe. She also was in an accident two weeks ago and really needs a car. Instead of the cheaper cars, we were looking at, now she can get something nice."
The lucky winner plans to use her windfall to buy a new car, pay off her bills, and take a short vacation. "I can get my feet back on the ground. This is a blessing," she commented
Maryland Strikes It Lucky Twice…
Maryland is the place to be for these wins it seems. A second lucky tip winner who worked in retail received a pair of scratch-off lottery tickets from a regular customer as an end-of-year "tip". The gift turned out to be a very lucky one indeed as when the numbers were revealed she ended up winning $50,000.
Veronica Spekis who is forty-one was working at the Soda Pop Shop in Parkville in late December. A regular customer popped in and told her to pick out two scratch-off lottery tickets for herself as an end-of-year tip for all her hard work and good service.
She picked two $5 Holiday Riches tickets and scratched them off on her break to discover one was a $50,000 top prize winner.
Spekis has said she's going to put the money towards buying her own house. The Soda Pop Shop where she works was given a $500 bonus from the lottery for selling the winning ticket.
Colorado
Taxi drivers are used to receiving tips, but one Colorado-based Uber driver got more than he bargained for when he got a lottery ticket tip from a client that eventually landed him $140,000.
The driver, simply known as James P said he was given a $5 Super Special Ultimate Bingo Scratch ticket. From that, he won $30 – with those winnings he bought six more of the same kind.
He kept winning small amounts and "just kept rolling it over and over into more tickets.", the gamble paid off and some six weeks later he earned a winning ticket that bagged him a $140,000 prize.
James has said he plans to give his parents some of his winnings and will also use some of the remaining money to fix his car properly. Since the win, he hasn't seen the client who gave him the ticket in the first place. "I haven't been able to find him yet and tell him about this, but I hope I do," he said, speaking afterward.
You May Like