Lottery Changed My Life Stories
Last updated on April 17, 2018 by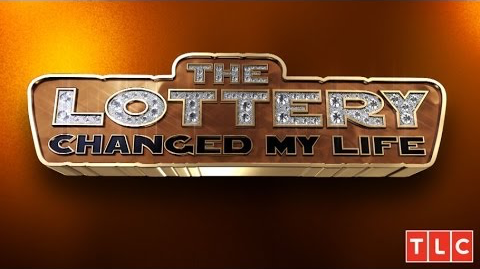 Often we hear about people who have won huge sums on the lottery, but very little about what happens to them afterwards. A lottery win can be a massive life event and so here are the stories of how the lottery changes people's lives and what they've done with their big wins.
Roy Gibney
Roy won a Lotto jackpot of $7,500,000, twenty years ago in 1998.
He was a sheet metal worker when he found out he'd scooped a huge prize. He used some of the money to set up his own sheet metal company in partnership with Dave Fenwick who he worked with many years ago.
With the rest of his winnings, he bought a six-bedroomed mansion in Grimsby with a mini-casino, Jacuzzis, bar and games room complex as well as a gym, fishing lake, summer house and woodlands. He also bought three horses to race, but has since sold those on.
He and his partner Darlene relocated to Nairn in Scotland with their youngest son and he has plenty of time to pursue his hobby of football. He's done good for the local community by buying a social football club and supports his local football team Inverness Caledonian Thistle.
Of the win, Roy said "When I won I enjoyed all the luxuries you would expect of a lottery winner – even featuring my winning lottery numbers on the bottom of my 50′ swimming pool which I built at my Grimsby home. Nowadays I don't indulge myself quite as much as I used to but still enjoy the carefree life winning has given me. I split my time between my villa in Cyprus and Britain. I also feel it was important to give back and have supported many charities – whether it's running charity fishing days or dressing up as Father Christmas for the local hospital."
Alex Dyer
Alex won $5,957,937 fifteen years ago in 2003. She and her now sadly deceased husband, John ran a Working Men's Club in Knaresborough, North Yorkshire.
After they got their winnings they decided to stay in the area and bought a luxury home and a few cars as well as enjoying holidays overseas.
However, they gave away a lot of their money to family, friends and charities. Following the death of John, Alex move to Spain where she has bought her dream home.
She said: "I absolutely love my home in Spain, it's a bit like the 'Good Life' only with less rain thankfully. We grow our own food and as a horse lover it's amazing to have my own horse so I can go riding on the beach whenever I want."
Eloise Heard
Eloise won a Lotto jackpot of £1,346,840 seven years ago in 2011. She became one of the UK's richest teenagers with the win.
Working at her local Co-Op at the time of her win, the down to earth lass celebrated by having a pub dinner with her boyfriend and now husband, David.
She has used her windfall for the all the major crowning achievements in life like buying a car and a house. It also went towards paying for the couple's wedding and dream honeymoon across America earlier this year.
But some of the money has also been used to build her mobile beauty business and her husband has set up his own online business too.
Speaking of her win she said: "When I won I was able to treat my family which was an amazing feeling. David and I have taken our time spending the money using it to invest in the 'big things' in life like our home and wedding. We're both working hard to get our businesses going but knowing we have financial security at such a young age is phenomenal!"
Brian Caswell
Brian collected a EuroMillions jackpot of £24,951,269 ten years ago.
He and his wife Joan, 78 hail from Bolton in Lancashire and genuinely couldn't believe their luck when they scooped the whopping EuroMillions win.
Up until they'd got the money the only ever prizes they'd got were for their allotment. They used the money to treat their family and bought homes for their daughters.
They wanted to support good local causes and have ploughed money into a charity that helps people in Bolton.
Brian said: "The whole lottery experience has really brought our family closer together which is amazing Being able to give my family financial security and help people in our local community is such a fantastic feeling I can't even put it into words!"
Gareth Bull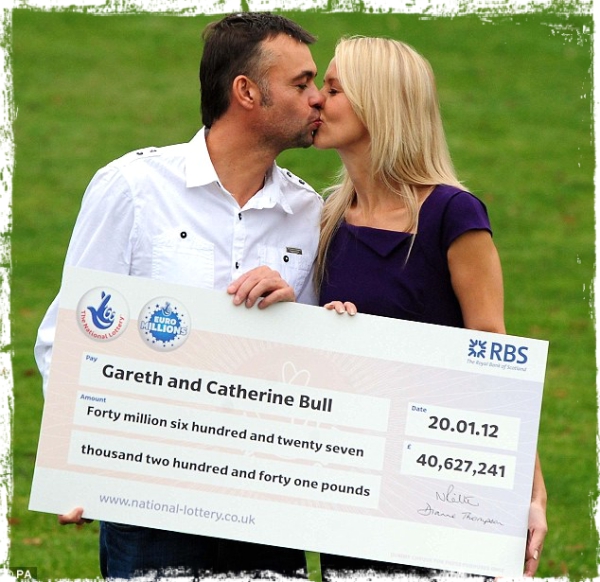 Gareth won the EuroMillions jackpot to the tune of £40,627,241 six years ago.
He and his wife Catherine bought the ticket on a whim when he couldn't start a building job because of bad weather.
They already had their dream family home that Gareth purpose built, but have spent their winnings on treating their family as well as themselves – purchasing a new Range Rover Autobiography and Mercedes 350.
The couple, who have a young family, have taken several holidays to Mexico and Egypt, as well as buying themselves a luxury Villa in Tenerife.
Deana Sampson
Deana won £5,439,681 twenty two years ago in 1996. She was a working as a mobile hairdresser when she won the money. At the time, she was a married mum and the family were struggling to make ends meet in a small house in Sheffield.
The win turned the life of her and her family around. She became a businesswoman and invested cash into an online lingerie business. She now also has a health rental property portfolio and a holiday home of her own in Florida.
After the win she commented "Winning the lottery completely changed my life and, having come from very humble beginnings, I knew that I had to make the money work for me and my family. I've made some good investments and am now a lady of leisure which is lovely."
Dean Allen
Dean won a Lotto jackpot of £13,861,061 eighteen years ago. He was working as a printer when he won the money and immediately swapped his Ford Fiesta for a Porsche.
He married his girlfriend, Louise, 36, and the couple now live in a five bedroom house in Essex with their two children.
He bought a fleet of cars including a Ferrari 550, a Porsche GT3, Bentley GT Speed, Audi RS4 and a Range Rover Evoque.
But the main thing Allen spent a huge chunk of money on was charitable causes and he and his wife now support the special care baby unit at Princess Alexandra Hospital, by buying much needed equipment. In addition to this, they have also bought a heart and lung machine for London Chest Hospital in Bethnal Green and supported the Little Haven Hospice in Southend.
"I've had some amazing experiences thanks to my win. I've flown a jet plane in the Florida Keys, gone ice racing in Finland in a Porsche and skydived in Devon. But the most rewarding part of my win has been being able to help out my family and support charities close to my heart." – said Dean
Sharon Mather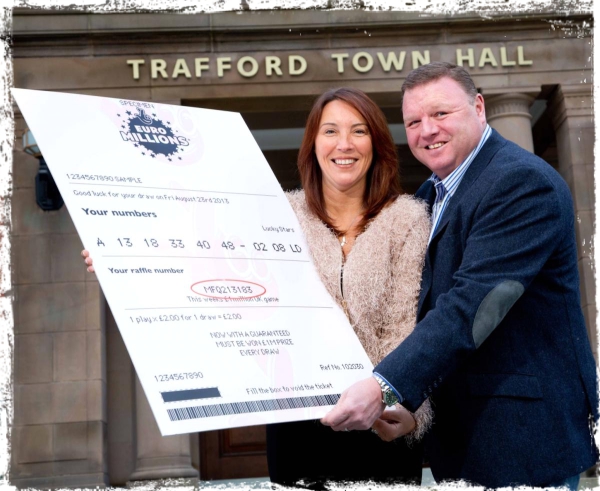 Sharon won a £12,408,000 on the EuroMillions eight years ago.
She and her husband Nigel were on holiday at a caravan park in Minehead, Somerset, with their two sons when they bought their winning Lucky Dip ticket. She immediately resigned from her job in the finance department with her local council in Trafford
The couple now own shares in three racehorses. They have bought a number of luxury cars and enjoy exotic holidays, including visiting Dubai three times so far. They bought a new family home but most importantly, they've been able to pay off family members' mortgages and buy properties for both their parents.
The couple also carry out charitable work. Nigel is a trustee at Stockdales, which is a charity that helps children and young adults with learning disabilities. He also volunteers his time as well as helping them financially. The couple also support Francis House hospice in Didsbury.
Sharon said: "Sharing the win has been the best experience. It was amazing to be able to take Nigel's mum and dad away on their first holiday abroad in 20 years and we've been able to make family members mortgage free which is a fantastic feeling. It's also been really important to us to give something back, and take an active interest in charities like Stockdales and Francis House that make a real difference."
You May Like