Jamaican Lottery Scams: What Are They and How to Deal With Them
Last updated on August 1, 2018 by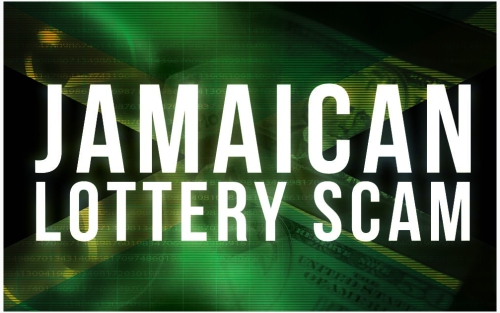 One of the biggest stories in lottery scamming that has sent shockwaves across the USA in recent months has been the rise of scammers from Jamaica. There has been a sharp increase in the numbers of innocent people – often senior citizens, who have been targeted by specific groups of criminals who hail from the country and have tried to extort money. Here, we investigate the rise of Jamaican Lottery Scams – what are they and how to deal with them if you've been a victim.
Jamaican Lottery Scam Reports
In Kingston, Jamaica, the American Citizen Services is now used to getting more frequent inquiries from citizens who have been defrauded to the tune of thousands of dollars by Advance Fee Fraud scammers who are operating in Jamaica right now.
The biggest type of scam in the country right now is the lottery scam. This is where scammers lead victims to believe they have won a substantial amount of money on a lottery draw, but the cash or prizes will not be released unless the victim pays fees or taxes. Those who are most often targeted are senior citizens or those with larger disposable incomes.
For the last five years police in the country have come to recognize this form of scamming as a massive crime and now place it in the same bracket as murder. They say that they have witnessed a huge rise in the number of citizens who have been targeted, particularly older people.
There is one scam in which criminals pose as lotto officials in order to try and convince foreigners and elderly people there that they've won a lot of money on the lottery. These criminals insist that all that is required is a small 'processing fee' to ensure the lottery money is released to them. There are sadly many people who fall for this, hand over cash and are surprised when no big money win lands in their bank account.
A lot of the scammers are young and aged under twenty-five. They'll usually work in professions such as telemarketers, remittance services cashiers, hotel employees, taxi drivers, police officers, bank tellers and airline staffers. These are the sorts of jobs that give them access to the personal details of thousands of people.
Scammers are now targeting people who live in America. It's nothing new, but crimes like these have been steadily on the increase since 2010. In that year alone, Jamaican lotto scammers defrauded the US $30 million from scores of victims in one state – Minnesota.
Money with Menaces
One aspect of the scam which is particularly frightening and might be one of the reasons people are quick to hand over money is that fraudsters menace victims who are reluctant to pay the processing fee. These criminals will use Google Earth and be able to describe the victim's home and locale and say they're waiting outside to get them. They often threaten to cause harm. This particular scam seems to flourish in the Montego Bay area, the heart of the Jamaican tourism industry. It seems that many criminals are now getting rich by preying on vulnerable citizens.
Jamaican Lottery Scammers in Pittsburgh
One story which highlights this scam further comes from Pittsburgh. A criminal, believed to be one of the main ringleaders of these scams has finally been arrested following a Pittsburgh woman's arrest in connection to the scam last year.
Kristoff Cain, aged twenty-two, from Jamaica was charged by Attorney General Josh Shapiro on liaising with corrupt organizations, theft by deception and other felony crimes.
He had previously been identified as the ringleader of a campaign of crime after seventy-two years old Audrey Huff, of Pittsburgh, was arrested in 2017. She had been working as a money mule in this particular scam and had wired more than $295,000 in funds stolen from elderly Americans to scam artists in Jamaica, including Cain. These victims, as we have previously mentioned, thought they were paying taxes on lottery winnings they would receive further down the line.
Cain is currently in the Allegheny County Prison, awaiting a preliminary hearing.
Jamaican Lottery Scam Stings
Detectives from the Major Organised and Anti-Corruption Agency (MOCA)  are now reporting that since this time there are an additional eight people who have been charged after their alleged involvement in a major lottery scam network, which was operating out of Western Jamaica, bringing a total number of people charged for such crimes to eighteen.
The people were all charged after a serious of stings in Farm Heights and Farm Hills in St James; Cornwall Mountain, Shrewsbury Logwood and Bethel Town in Westmoreland as well as Alderton and McDowell District in St Ann. The names of the charged have been released and they are as follows:

Vennecia Dixon, Ecardo Kelly, Alvin Kelly, Shereika Kelly, Omeika Thomas, Nicola Poyser, Ishmael Kelly, Davion Thomas, Ray Onfroy, Doreen Williams, Andrea Williams, Patsy Ferrigon, Christopher Steer, Honel Frame, Trishana Dove, Nicky-Ann Kelphat, Courtney Wallace, and Triston Grant.
Commenting on the crime, police have so far stated that Dixon, Thomas, Poyser, and members of the Kelly family were all arrested during simultaneous MOCA operations carried out with the assistance of the Jamaica Defence Force and the Jamaica Constabulary Force after they had been identified as carrying out illegal lottery scams.
Lottery scamming paraphernalia had been found and seized by MOCA detectives resulting in their arrests, the police reported. Seven people were charged, and each offered bail in the sum of $400,000.
On Friday, October 20, 2017, Davion Thomas was charged by MOCA detectives after investigations revealed his alleged involvement in the same illicit activity. He was offered $400,000 bail.
After further investigations, police searched premises in St Ann in November 2017. It was then Onfroy and Williams along with several documents containing identity information of individuals were found. Andrea Williams, Ferrigon, Steer, Frame, Dove, Kelphat, Wallace, and Grant were all arrested in December after they were found in possession of lottery scamming paraphernalia during an operation by MOCA West detectives. All except Grant were offered bail in the sum of $400, 000. Police said Grant was remanded in custody.
If You Think You Might Have Been Targeted by Jamaican Lottery Scammers
Think about the following points carefully:
If it's too good to be true, then it's too good to be true. If you haven't entered a lottery and someone tells you, you have, and you've won a prize do NOT believe them.
Playing foreign lottery games from the USA is illegal. If anyone tells you, you have and that all you need to do is pay an upfront fee then avoid them and report them.
Do NOT send any money to someone you do not know.  Do NOT attempt to recover funds personally or travel to Jamaica to transfer money.
You may have been targeted by a fraudulent lottery scheme if any of the following apply to you:
You've had an unsolicited phone call, email or letter which tells you you've won a huge amount of money and you must pay a fee to claim your prize.
If the caller/contactor tells you that they are doing you a service by making you pay the fees up front, you are being scammed.
If anyone contacting you gives a story explaining the urgent need for more money and finds creative ways for you to obtain and send money, including using 'Green Dot' cards, selling a property, taking loans, etc.
If someone contacts you asking you to send money that you do not know but claims to know lots of personal information about you.
If you don't give them money, scammers will often threaten you or become very angry…  Threats include claims that they will report you to the IRS, to the police, or cause bodily harm.
They may then involve other accomplices to harass you and your family or friends.
If this fails, scammers may try a different tack, posing as government officials or lawyers claiming that you must pay for their services to assist with your case, reclaim your scammed funds, or protect you from criminal prosecution.
Callers may claim to be from or in Jamaica but may ask that the money be sent to an account in another country or to an accomplice in the U.S.
Alternatively, the scammer may state he or she is in a third country but request that funds be sent on to somewhere else in Jamaica.
If you think you may have been a victim of a Jamaican lottery scam, it is imperative you contact the police in your country immediately. Have as many details as possible to hand and make sure you give the relevant authorities as much information as possible so that they can catch the perpetrators of these crimes. Don't ever give money or personal details to anyone who contacts you claiming to be offering you a prize for a competition you haven't entered. If you are ever in any doubt, report them to the police.
You May Like