First Time Winners: Lottery Syndicates Who Played Once and Won Big!
Last updated on September 19, 2018 by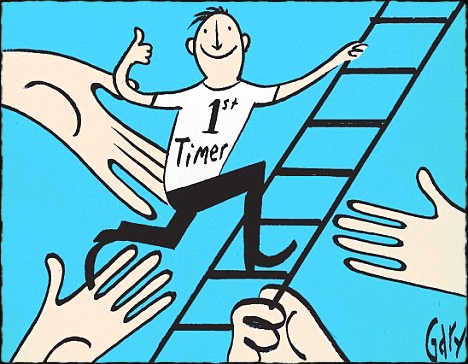 Joining a lottery syndicate can be a great thing to do. It means you get to club together with your friends, family or co-workers and have a nice time enjoying playing the lottery and hopefully (one day) winning a jackpot that means you can all retire.
For some, no matter how long they play it remains a pipe dream. For others, playing in a syndicate gets results very quickly! Here we have the outstanding stories of three groups of people who were first-time winners, lottery syndicates that played once and won big!
San Francisco Team Wins at First Try
When eleven co-workers who all work together in the finance industry in San Francisco got together to enter the lottery together they all put $2 a piece in after discovering how big the latest jackpot would be.
Roland Reyes, the only one of the co-workers who has revealed his identity said: "It was spur of the moment – "Hey, did you hear about the jackpot? We should play,"
So, he and his newly minted co-workers got the prize after the 24th July draw. It was the first time they'd entered, and they won either $543 million over the next thirty years or a lump-sum option of $320.5 million. Both options are before taxes.
Reyes has said the team will keep their jobs though they have not said where exactly they work "We love that company. We love what we've built there. We have a good time and want to stay together." So far they have declined to speak to reporters or be photographed.
As is usual, the store where the ticket was purchased, Ernie's Liquor in San Jose, gets $1 million for its role in the jackpot.
Care Home Workers Scoop a First Time Lottery Syndicate Win
Nine women who work in a care home celebrated after winning more than £7million – after playing EuroMillions for the first time.
Even though the women (who are splitting the winnings equally) have come into good fortune, they all insist they will not be walking away from their jobs. The football-mad West Ham fans will get £783,904.68 each, and have said they will take a dream holiday with the winnings after an initial trip to Florida was canceled when the holiday form they booked with, went bust.
Barbara Fogg, 60, told how she persuaded her mates to have a punt on EuroMillions last Friday after being cajoled by her son. "We usually play the Lotto but my son went on at me about the £100 million EuroMillions jackpot. He said it all had to be won that night so I called round the girls to see if they fancied having a go. They all agreed and I bought the tickets on Friday morning."
After spending £42 on tickets, she forgot to check the draw that evening. Only releasing on Saturday morning, they had won with the last of their twenty-eight sets of lucky dip numbers.
She said: "I scanned through until I got to the last line and realized we'd won something. I was a blubbering mess and could barely ring the National Lottery line and Pat, the manager at the care home. She decided to call all of the girls into work and revealed the amazing news to them one by one. I then made an announcement to the residents and reassured them we wouldn't be leaving. We all love our work and are like one big family. We would not leave the old people while they still need us. All of them are overjoyed for us."
Barbara continued: "The party with the residents was the best bit of winning. Three of them are over 100 and they enjoyed it as much as we did. I'm sure we'll use some of the money to spoil them a bit."
Care Home Boss Pat, also in the syndicate, from Romford, Essex, said: "We were devastated when our trip was canceled as £5,000 was an awful lot of money to us. But the lottery win more than makes up for it. It is a life-changing amount for all of us."
West Ham fan Pat plans to spend £28,000 of her winnings on a box at her team's ground.
The lucky ladies were presented with their cheque at Upton Park by West Ham legend and 1966 World Cup hero Sir Geoff Hurst. He said: "I am absolutely thrilled for them. It's a great story. They are people who have given their lives caring for others."
Family Syndicate Wins Big After Mother Cheats Death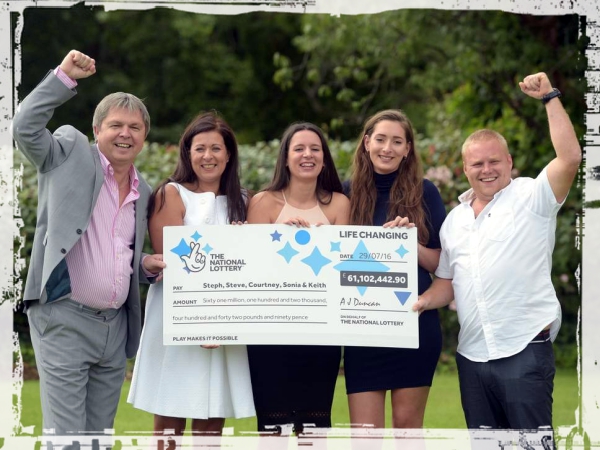 The mother in a family who won £61 million on the EuroMillions lottery told her daughter to buy a ticket after 'cheating death' after having surgery to remove a tumor.
Sonia Davies' put together a syndicate of five people, along with her partner Keith Reynolds, 55, daughters Stephanie, 23, and Courtney, 19, and Stephanie's boyfriend Steve Powell, 30. They won £12.2million each.
Stephanie went to get six Lucky Dip tickets on the evening of the draw in 2016. She'd had a call from her mother, who was in Florida after undergoing keyhole surgery to remove a tumor on her parathyroid gland.
Sonia said: "I had the surgery…wow, I'm cured, I feel good, it doesn't hurt so much. I felt like I had cheated death and felt so so lucky. You just feel like, we're on a roll, let's buy a lottery ticket because we're so lucky. I didn't think we'd win but, when you feel everything is shining down on you, you just go for it"
Her daughter bought the tickets from the Overmonow Garage in Monmouth. She was stunned when she checked the numbers in the early hours of Sunday morning.
After being diagnosed with a tumor on her parathyroid gland earlier in 2016, she had arranged keyhole surgery at a treatment centre in Florida.
Sonia went on to say: "What a rollercoaster of a week we've had. I had my operation on Wednesday and until then we didn't know how serious it was. They told me that if it hadn't been removed it would have been fatal – and at the very least I would have lost my voice within a year. They managed to give me the all clear straight after the operation, so as you can imagine we were on cloud nine. Excited we were about to return home to celebrate our brilliant news, Keith was scanning his emails and read about the EuroMillions rollover. He was convinced that we were the luckiest people on the planet and definitely on a winning streak after the success of my op. So we called up my daughter Courtney to ask her to go and buy us a ticket. She was traveling and wasn't able to change her plans so we called Stephanie instead as something told us we needed to get a ticket – and the rest is history"
Daughter Stephanie takes over the story and said: "My car was blocked in the drive by my boyfriend Steve's, so to save time I made him drive me to buy a ticket instead of moving mine"
She said she and her boyfriend had gone out with friends and did not check the ticket at the time and Mr. Powell said "We were laughing and joking about the lottery. steph remembered she had bought a ticket. She said, "if I shout down it means we've won the lottery and if not, I've gone to bed". She came down crying".
She had checked the numbers on her iPad, realized straight away that they had all of them – with one UK ticket holder scooping the £61 million prize.
She said: "As soon as I saw that ticket I had my hands over my eyes, I was shaking, I was crying. I said to Steve "for once in my life I am not even joking". We checked the ticket about ten times over"
Hailing from Monmouthshire in South Wales the family, at the time the story broke, still had no idea what they'd do with the money.
Stephanie and her partner bought their first home together at Christmas and said they wanted to get that finished off and then go to the Caribbean for a well earned holiday.
Daughter Courtney wanted to finish her studies before deciding how to spend hers, but definitely wanted a new car! Courtney's boyfriend, Kieran, a student at Reading University, is hoping she will get the leak in his car fixed!
Small wishes for such a big win and it's lovely to read about people who have good luck and don't let it affect them. These stories all show the good side of being in a syndicate and winning money and that you can still live as relatively a normal life as possible! If it's inspired you to play, then why not get a group of friends or family together to set your own syndicate up?
You May Like