EuroMillions Winners
Last updated on May 3, 2020 by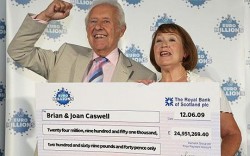 EuroMillions winners can be from any of the countries where Euromillions is played. Generally, we notice that EuroMillions winners are mostly from countries such as France, Spain, UK, and Switzerland, etc.
But it does not mean that players from other countries such as Austria, Belgium, Ireland, Luxembourg, have a lesser probability of winning. It's simply because the number of people plays EuroMillions in former countries than others.
EuroMillions winners change their lifestyle entirely once they become EuroMillions winners. They buy new houses, new cars, and the latest electronic gizmos, pay off all debts, have no job worries, and lead a luxurious lifestyle. They don't have any financial problems for the rest of their life.
You May Like