Western 649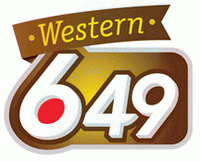 Site URL:

www.wclc.com

Days Played:

Wednesday and Saturday
Western 649 Review
Western 649 is a lottery game offered by the Western Canada Lottery Corporation (WCLC) which is a non-profit organization formed in 1974 with the aim of operating lottery and gaming-related activities on behalf of its members and the governments of Manitoba, Saskatchewan, Alberta, and Yukon. Western 649 is only available in the Prairie Provinces and the Territories. This game gives you an opportunity to win up to $2 million in every draw and the cost per play is just $1. If you choose to add Extra, you stand to win the top prize of $250,000 or the second prize of $100,000.
Check out the France Lotto top 6 hot numbers today!
How to Play Western 649
Western 649 gives you a number of ways through which you can participate in the lottery and the common ones include:
Quick Pick
This is where you allow the Ticket Terminal, which is a computer system to randomly choose the numbers for you. It should be noted that the Quick Pick gives you a random chance of winning and therefore not a guarantee that the numbers you choose will correspond with those drawn.
Selection Slip
In this, you manually choose the numbers based on your own preference from a pool of 1 to 49 numbers. One ticket can allow you to play up to 6 Western 649 games. The cost per play is $1 and if you choose an Extra, you will have to pay an additional $1 per selection. Even when using the Quick Pick, you can still specify that you need to play Extra.
The number of draws you want to be entered for should be clearly indicated on the ticket. The maximum number of draws you can enter is 25. When you choose Play Both, you get the same selections on Lotto 6/49 and Western 649.
Lotto Packs
Lotto packs provide a quick and convenient way to play your favorite lotto games. Typically, a pack is a combination of a number of lotto games priced as a package. Among the lotto packs that have Western 649 include:
The 649 pack has one Western 649 ticket with a Quick Pick selection and one $2 value Extra as well as one Lotto 6/49 ticket with a Quick Pick selection, one $4 value Extra, and one guaranteed prize draw selection. This costs $6.
The super pack costs $20 and consists of one Lotto Max ticket that comes with three Quick Pick selections and one $6 value Extra; 1 Western Max ticket that has three Quick Pick selections and one $3 value Extra; one Lotto 6/49 ticket that has two Quick Pick selections, one $7 value Extra and two guaranteed prize draw selections, and one Western 649 ticket that has three Quick Pick selection and a $4 value Extra.
To buy a Lotto pack, all you need is just to request one at any lottery ticket center. If you are in Manitoba, you can purchase your tickets online at playnow.com.
Combo Play
This is a great way to play number combinations on the same Western 649 ticket. You can choose your own numbers via a selection slip or ask the retailer to generate random numbers through the Combo Play Quick Pick. You will then receive a ticket that displays your selection of numbers and the draw dates for which you are eligible. The computer system normally records and tracks each possible combination. A Combo ticket allows you to win in the same manner as a regular selection. However, because of the multiple selections on your Combo ticket, you can win multiple prizes. You can play up to 25 draws totaling a maximum of 1,000 per transaction.
The Group Play
This is where you play together with your friends, family, or coworkers. The advantage of group play is that it enables you to pool your money together so that you can maximize the chances of winning the lottery. As members of a group, you should deliberate on the manner in which to administer your lottery purchases and prizes. You can appoint a specific person in the group to serve as the administrator or the trustee. This person can coordinate the collection of funds, buying of tickets, tracking of winnings, and posting of draw results. In case of any winnings, the trustee will also be in charge of the distribution. When purchasing tickets as a group, the trustee's name should appear on the back of the ticket alongside the words "In Trust".
If you want to play the same numbers for up to 1 year, you can choose the Play by Subscription option. At the end of the subscription, the lottery sends you a Winner's Certificate to show you what winnings occurred.
Checking Your Ticket
It's important to confirm the validity of your ticket so that you don't end up holding a ticket that isn't recognized in the system. Using the Ticket Checkers at a lottery retailer is one of the most convenient means. You simply wait for the message indicating "CHECK YOUR TICKETS HERE" and you insert the barcode carefully under the red light. Move it slowly through the red light until you hear a beeping noise.
The Odds of Winning Western 649
There are 6 categories of prizes to be won in Western 649 and each category comes with its own odds per dollar of play. The draws are held every Wednesday and Saturday.
If you match all the 6 numbers drawn, you win $2 million at the odds of 1:13,983,816. Depending on the number of winners, you may be forced to share.
The second prize of $50,000 goes to the player or players who match 5 out of the 6 drawn numbers plus a bonus number. The odds of walking away with this prize are 1:2,330,636. Just like the jackpot, this prize can also be shared depending on the number of winners.
The third prize category is for players who match 5 out the 6 drawn numbers. They win $500 at odds of 1:55,492.
To win the fourth prize of $50, you have to match 4 out of the 6 drawn numbers and the odds for this are 1:1,033.
If you match 3 out of the 6 numbers in any draw, you win $10 and the odds for this prize are 1:56.7.
The sixth prize of $3 is given to the player or players who match 2 out of the 6 drawn numbers plus a bonus number. The odds are 1:81.2.
When you match 2 out of the 6 drawn numbers, you get a free play. The odds here are 1:8.3.  A free play ticket includes one number selection done automatically through Quick Pick. You can add an Extra number to this for an additional $1.
| | |
| --- | --- |
| Match | Odds |
| 6 of 6 | 1 in 13,983,816 |
| 5 of 6 + Bonus | 1 in 2,330,636 |
| 5 of 6 | 1 in 55,492 |
| 4 of 6 | 1 in 1,033 |
| 3 of 6 | 1 in 56.7 |
| 2 of 6 + Bonus | 1 in 81.2 |
| 2 of 6 | 1 in 8.3 |
Western 649 Prize Breakdown
Ensure that your ticket is duly signed and then complete the claim form. Prizes up to $200 can be validated through scanning at a lottery terminal and retailers pay these prizes. Prizes over $200 up to $1000 can be paid by the retailer if they have available cash, although they are not under any obligation to pay you. If you win over $1,000, you should call the customer support line at 1-800-665-3313 for instructions. Winnings of $10,000 and above require you to make an appointment.
If you are making your prize claim through mail, you should print your legal name, address as well as daytime telephone number on the claim form printed on the back of the ticket. Depending on the amount you win, you may be required to provide a copy of your identification. The risks involved in sending the tickets are borne by the player. All prizes can be claimed by mail.
If you are claiming a prize as a group, you must fill out a group buying agreement before you lodge your claim. When claiming a prize at the Prize office, you will be required to provide two valid identification documents, one of which should be a photo ID.   The prize offices where you can claim your prizes include Regina, Winnipeg, Saskatoon, Edmonton/St. Albert and Calgary. While all the other prize offices have unlimited payout limits, Calgary can only pay up to $9,999.99.
On the front or back of your ticket is indicated the expiry date for claiming your prize. Ensure you do so before the period lapses. Depending on the amount you win, you may have to wait for some time, especially when claiming at a prize office. If you want to check your tickets on the go, you can download the Lottery Manager App which is available both in the App Store and Google Play.
| | |
| --- | --- |
| Match | Prize |
| 6 of 6 | $2,000,000 |
| 5 of 6 + Bonus | $50,000 |
| 5 of 6 | $500 |
| 4 of 6 | $50 |
| 3 of 6 | $10 |
| 2 of 6 + Bonus | $3 |
| 2 of 6 | Free Play |
Western 649 Number Generator