Weekly Grand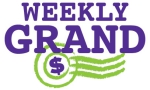 Site URL:

gamecenter.idaholottery.com

Days Played:

Wednesday, Saturday
Weekly Grand Review
Weekly Grand is a lottery draw game offered by Idaho Lottery and guarantees its jackpot winners $1,000 every week for a whole year. The beauty with Weekly Grand is that it doesn't cost much to play because for only $2, you can be entered for a single draw.
Playing Weekly Grand is also much easier because all you need to do is to choose 5 numbers from a pool of 1 to 32. Matching all the 5 numbers wins you the jackpot, which is paid in weekly sums for 52 weeks consecutively. What's more, Idaho lottery's VIP club site gives another opportunity once a month for players to enter their non-winning tickets for a chance to walk away with a prize of $5,200 which translates to $100 a week for the whole year.
Playing Weekly Grand
As pointed out above, playing Weekly Grand is pretty much easy. There are lots of Idaho Lottery retailers, you can walk to and purchase your ticket. At the retailer's place, you can either choose the numbers through manual picking or opt for the Weekly Grand Quick Pick where a computer terminal randomly chooses the winning numbers for you.
The cost per play is only $2 and you can also choose to participate in advance draws up to 10 consecutive draws at a go. The retailer will give you play slip that has 1 to 32 numbers from which you are to choose only 5 numbers. After carefully marking your preferred numbers, you should hand over the slip back to the retailer so that he can in turn generate the ticket for you.
You need to be very careful and ensure the ticket has all the details as you have chosen. These include the draw dates and the specific numbers you have chosen.
Idaho Lottery has an app known as myPLAYSLIP which you can access both on iOS and Android platforms. Once you download this app, you can choose the draw game and play straightaway. The drawings for Weekly Grand are held every Wednesday and Saturday night as from 8.00 p.m. Mountain Time.
Second Chance Draws
Although a rare practice in lottery, Idaho Lottery gives players an opportunity to win additional prizes through a second chance drawing. In this, players submit their non-winning Weekly Grand tickets through the official website. One winner is announced each month for the second chance draws. The prize for this is a $100 a week for 52 weeks consecutively.
The Odds of Winning Weekly Grand
Idaho Lottery is founded on the principles of integrity and fairness. It uses an industry standard random number generator in its bi-weekly drawings. The random number generator is rigorously tested, licensed, and approved to create winning numbers for Weekly Grand as well as the second chance drawings.
In generating the numbers, the random number generator uses a trace amount of plutonium, an element that is known to decay in a random manner. This makes the generator one of the most accurate method when it comes to the randomness of the winning numbers selected.
After the drawings, the results will be published in the dailies, in the official Idaho Lottery website as well as televised. It is upon you to find out if your ticket has won a prize and take the initiative to claim the prize.
It is always important to fill out and sign your lottery ticket on the back the moment you purchase it. This is because lottery tickets are generally bearer instruments, which means any person who signs it at the back can claim ownership of the ticket and claim the prize. By putting your information at the back of your ticket, it can help in the identification process even when the ticket is stolen or misplaced.
Local Idaho Lottery retailers usually have printouts with the winning numbers which you can request and check if you have won. The Check-A-Ticket App can also help you in confirming if your ticket is a winner. Members of the VIP club can get text messages directly to their cell phones showing the winning draw numbers.
To win the jackpot, you have to match all the 5 drawn numbers and the odds for this are 1:201376. Because the jackpot amount is subject to withholding taxes, it comes to a net of $52,000 down from a gross of $77,380. In the event there are multiple winners, the jackpot will be divided equally amongst them. There is no option for lump sum cash payment in Weekly Grand.
If you match 4 of the 5 drawn numbers, you get $200 and the odds are 1:1492.
Matching 3 numbers wins you $25 and the odds are 1:57.
The last prize category, wins players a free ticket at odds of 1:7 if they match 2 out of the 5 winning numbers.
The overall odds for playing the Weekly Grand on Idaho Lottery is 1:6.12. this means the chances are high that you will win yourself a prize. For the free ticket, players are only allowed to use the Quick Pick system in choosing their numbers.
| | |
| --- | --- |
| Match | Odds |
| 5 | 1 in 201,376 |
| 4 | 1 in 1,492 |
| 3 | 1 in 57 |
| 2 | 1 in 7 |
Weekly Grand Prize Breakdown
If you discover you have a winning ticket and haven't as yet signed it on the back, this should be the first thing to do. It is also important to make a copy of your winning ticket both the front and the back portion for safe keeping and reference purposes.
The next step is to have the Idaho Lottery officials verify your ticket and you can do so via phone anytime from Monday to Friday as from 8.00 a.m. to 5.30 p.m. Mountain Time.
If your ticket has won over $600, you should make your claim at the Idaho Lottery offices within a span of 180 days from the draw date. When this period expires, your ticket will become void and that means you cannot lodge your claim.
At the point of presenting your ticket for validation and payment, you will also be required to fill a winner's claim form and the addendum attached.  Winners will also have to provide social security numbers as well as government issued photo identification documents which may be a government-issued passport or a valid driver's license.
| | |
| --- | --- |
| Match | Prize |
| 5 | $77,380 (Jackpot) |
| 4 | $200 |
| 3 | $25 |
| 2 | Free Ticket |
Weekly Grand Number Generator