Show Me Cash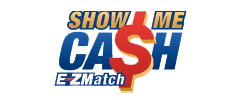 Site URL:

www.molottery.com

Days Played:

7 Days a Week
Show Me Cash Review
Missouri Lottery is one of the expansive and most innovative lottery companies. It runs a number of lottery games amongst them Show Me Cash. With a jackpot that starts at $50,000 and then increases until the draw is won, Show Me Cash gives winners a chance to win big in the daily jackpot game every night. Draws are held every Monday through to Sundays from 8.59 p.m. to 9.15 p.m.
How to Play Show Me Cash?
With an easy to play format, Show Me Cash has been experiencing an influx of players which is very good for the health of the game. In order to play this game, you first of all need to select your numbers. Using the playslip which has five boards from A to E, you can select five numbers per play. Each play costs only $1 and the pool of numbers you are to select from per play ranges from 1 to 39 both numbers inclusive. With the five boards, the playslip gives you an opportunity to enter five plays.
In the event you make a mistake when selecting your numbers on a particular board, there is a VOID box for every board that you can mark and move on to the next board so that you can make a proper selection of your numbers. Marking the void box nullifies the selections you have made on the particular board.
When selecting your numbers, you can either go for the manual selection where you go for your favorite numbers and physically mark them on the playslip or go for the Quick Pick option where an automated computer system picks the numbers for you.
EZ Match
The EZ Match is an additional optional play costing a dollar per play. The numbers are randomly generated and printed right below your Show Me Cash numbers. When any of the five EZ Match numbers generated match any one of your Show Me Cash numbers irrespective of the order, you win an instant prize. The amount of the prize is normally printed on the ticket next to the matched EZ Match numbers.
Multi-Draw
Show Me Cash enables you to play your chosen numbers for more than one drawing. You can enter up to 14 consecutive drawings, thereby standing a higher chance of winning the prize. All you need to do is to mark the Multi-Draw box.
When done with your playslip, you should hand it over to the retailer who will then proceed and process your ticket. You should check your ticket before leaving the retailer's premises to confirm that the date on the ticket is correct and the numbers printed on it are exactly what you have chosen. Sign your ticket at the back and keep it in a safe place as you wait for the drawing.
The Odds of Winning Show Me Cash
 As it was pointed, there are two ways you can win when you play Show Me Cash. The first is through the regular selection of numbers and the second is through the EZ Match option. Winning of EZ Match is easy because when you choose to play, numbers are randomly generated for you and printed at the bottom of the ticket.Each number has a prize against it and when one or more of the EZ Match numbers match with any of your Show Me Cash numbers, you instantly get the prize indicated. For instance, if your Show Me Cash numbers are 02 19 22 25 29 and your EZ Match numbers are 01 15 19 23 29, you will get the prizes indicated against 19 and 29 because they match the Show Me Cash numbers.
Odds of Winning EZ Match Prizes
Winning $500 and $250 in EZ Match comes at odds of 1:84,000 for both.
Winning $100 comes at odds of 1:28,000
Winning $50 comes at odds of 1:8,400
Winning $20 comes at odds of 1:3,360
Winning $15 comes at odds of 1:2,100
Winning $10 comes at odds of 1:442.11
Winning $5 comes at odds of 1:420
Winning $4 comes at odds of 1:76.36
Winning $3 comes at odds of 1:14.48
Winning $2 comes at odds of 1:6.68
The overall chances of a player winning any prize through EZ Match are 1:4.21.
The second opportunity is to win through your normal number selection. From a pool of 1 to 39, you select 5 numbers and the prize payouts and odds of winning are as described below.
Matching 5 out of the 5 drawn numbers, you win the jackpot, which is $50,000 on the minimum and comes at odds of 1:575,757.
Matching 4 out of the 5 numbers gives you a prize of $250 at odds of 1:3,386.8.
Matching 3 out of the 5 numbers wins you $10 at odds of 1:102.6.
Matching 2 out of the 5 numbers wins you $1 at odds of 1:9.6.
The overall odds of winning at least a prize is 1:8.77.
| | |
| --- | --- |
| Match | Odds |
| 5 | 1 in 575,757 |
| 4 | 1 in 3,386.8 |
| 3 | 1 in 102.6 |
| 2 | 1 in 9.6 |
Show Me Cash Prize Breakdown
 You can easily find Show Me Cash winning lottery numbers through the following options.
You can visit the Missouri Lottery website where the numbers are posted on a daily basis
You can subscribe to a free daily or twice weekly email newsletter known as My Lottery which has the winning numbers as well as other news
Calling the Lottery hotline gives you access to a recorded message with the current winning numbers. For Jefferson City call (573) 751-1111, Kansas City call (816) 795-0203, Springfield call (417) 888-4271, and for St Louis call (314) 340-5805.
If you visit your nearest lottery office, check your local dairies, listen to radio and watch TV, you can also get to know the winning numbers.
Claiming Prizes
When you win a Show Me Cash prize, you have up to 180 days from the date of winning to claim your prize. To claim $600 or less, visit your Missouri Lottery retailer and based on his cash balance for the day, you can redeem your claim.
Between $600.01 and $35,000, you can be paid the same day at any of the Missouri Lottery offices. Any claim of more than $35,000 takes about two weeks to be processed. In order to claim prizes of $600 and above, you must visit the lottery office and submit your official claim form together with your winning ticket. You will also be required to carry a photo identification document. For any taxable winnings amounting to over $600, you are required to fill the IRS Form W-9 which is a Request for Taxpayer Identification Number and Certification.
You can also claim your prizes through the mail. For you to do this, you have to indicate on the back of the winning ticket your name, telephone number, and address. Ensure the ticket is signed. Thereafter, mail the claim form and original ticket to Ticket Redemption, Missouri Lottery P.O. Box 7777, Jefferson City, MO 65102-7777.
| | |
| --- | --- |
| Match | Prizes |
| 5 | Jackpot |
| 4 | $250 |
| 3 | $10 |
| 2 | $1 |
Show Me Cash Number Generator