Road Runner Cash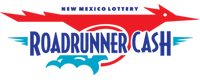 Site URL:

www.nmlottery.com

Days Played:

7 Days a Week
Road Runner Cash Review
Road Runner Cash is a lottery game played only in New Mexico. Costing $1 per play Road Runner Cash has a top prize that starts at $25,000 and grows gradually until a player or players win it. The draws for this game are held from Mondays all through to Saturdays at 9.30 p.m. Mountain Time. For those who want to purchase tickets, they must do so by 9.30 p.m. and any other ticket bought after that will be entered into the following day's draw.
How to Play Road Runner Cash?
This game involves the players choosing 5 numbers from a pool of 1 to 37 and clearly marking them on the playslip. Alternatively, for those players who may not want the manual picking of numbers, there is the Quick Pick option where they allow computer software to pick random numbers for them.
Irrespective of whether you choose your numbers manually or you do it through the Quick Pick system, you can play up to a maximum of 12 consecutive draws. All you need to do is to ask the clerk at your retail location to give you a Multi-Draw ticket or check the box indicated Multi-Draw on your playslip. The cost per play is $1.
Playing It Smart in Road Runner Cash
To ensure lottery players get what they deserve and minimize cases of rip offs from unscrupulous dealers, the New Mexico Lottery through the Play It Smart initiative want every player to be safeguarded. The top priorities in Play It Smart include:
Signing Your Ticket – Because losing an unsigned ticket can mean someone else claiming your prize, the New Mexico Lottery advises players to ensure that their tickets are always signed on the back.
Checking Your Ticket – Thanks to the systems put in place by the New Mexico Lottery, players can now check their tickets right at the lottery retailers and confirm whether they have won prizes. This is a convenient and a sure way to safeguard against players missing out on their prizes and minimizing unclaimed prizes.
Listening for the Winners Tune – When a ticket is scanned at a lottery terminal, there is a short winner's tune that plays. This is a cue that the scanning process has gone on successfully.
Getting Your Receipt – Whenever a winning or a non-winning ticket is scanned at the lottery terminal, there is a receipt that is always generated. When you submit your playslip, you should also ensure that a receipt is given to you.
The New Mexico Lottery does not allow participation by minors. Every lottery player must be 18 years of age and above in order to purchase a ticket or claim a prize.
The Odds of Winning Road Runner Cash
As indicated earlier, this lottery game has its draws on every day of the week with the exception of Sundays. The draws are held at 9.30 p.m. Mountain Time which is equivalent to 0330hrs GMT. Selling of tickets stop at 9.30 and resume at 9.35 p.m. for the next draw.
When the draws are held, the winning numbers are posted live in the New Mexico Lottery website and also distributed to all the lottery retailers so that they can display them at their premises. Also, if you call the player hotline which is (505) 342-PLAY (7529), you should be able to get the winning information.
Matching 5 white balls gives you the top prize, which usually changes from play to play with the minimum being $25,000. The odds for winning the jackpot are 1:435,897. The payment of the jackpot is done according to the online game rules set by the New Mexico Lottery authority. The jackpot is also pari-mutuel which means in case of more than one winner, it is divided equally among the winning tickets.
Matching 4 white balls wins you a fixed prize of $200 and the odds for this are 1:2724.36.
When you match 3 white balls out of the five drawn, you get $5 and the chances for this are 1:87.88.
Lastly, matching two white balls gives you a prize of $1 and the approximate chance for getting this is 1:8.79.
The overall odds of winning a prize in Road Runner Cash are 1:7.97.
Even though the other prizes other than the jackpot, are considered fixed, they can become pari-mutuel under special circumstances as defined in the online game rules set by the Mexico Lottery authority.
| | |
| --- | --- |
| Match | Odds |
| 5 | 1 in 435,897 |
| 4 | 1 in 2,724.36 |
| 3 | 1 in 87.88 |
| 2 | 1 in 8.79 |
Road Runner Cash Prize Breakdown
If you have won a prize based on your winning numbers in the Road Runner Cash lottery, you have to start the claim process. First of all, you need to know that your ticket is a bearer document that anyone can pick and collect a prize where applicable in their name. The New Mexico Lottery Authority has no way of distinguishing between a fake and genuine claimant. This is why it is important and mandatory for you to sign the ticket at the back so that you can make it truly yours.
Road Runner Cash is a drawing game, the prizes must be claimed within a span of 90 days from the drawing date. The deadline for the collection of a prize is the first business day after the 90th day if the 90th did not fall on a business day or the lottery was not open.
In order to claim a prize of $100,000, you must present yourself in person at the lottery headquarters located on 4511 Osuna Rd. NE, Albuquerque, NM 87199-3190. The business hours for the lottery headquarters are Monday to Friday 8.30 a.m. to 4.30 p.m.
Prizes between $601 and $99,999 can either be claimed at the headquarters or the claim may be sent by mail. In the event the claim is done by mail, the winning ticket must be mailed along with the duly claim form for verification purposes. The mailing address is; New Mexico Lottery, P.O. Box 93190, Albuquerque, NM 87199-3190.
Prizes ranging between $1 and $600 should be claimed at any New Mexico Lottery retailer or by direct mailing to the New Mexico Lottery. You do not need any claim form for these prizes. Players should note that payment of prizes that are $1 million and above may be delayed for about 3 weeks or even more from the date the winning ticket is validated.
| | |
| --- | --- |
| Match | Prizes |
| 5 | Top Prize |
| 4 | $200 |
| 3 | $5 |
| 2 | $1 |
Road Runner Cash Number Generator