New Jersey Lottery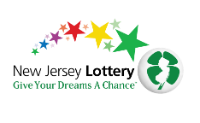 Site URL:

state.nj.us

Days Played:

Different
New Jersey Lottery Review
The government of New Jersey is in charge of regulating and running the NJ Lottery, the only form of gambling accepted statewide. Under this umbrella, the New Jersey lottery includes several games that have correspondents beyond state borders and is also a member of the Multi-State Lottery Association (MUSL). This means that Lotto NJ is proudly offering Powerball and Mega Millions, games that have a tradition of awarding the biggest jackpots in the United States.
Records Set in Multi-State Lotteries
NJ Lottery players were deprived of the chance of playing the Mega Millions until September 1999 when the state finally adhered to The Big Game. This was, in fact, the predecessor of New Jersey Mega Millions, a game that offers jackpots no lower than $12 million. Players can choose to compete for higher prizes by activating the Megaplier, which was pioneered by Texas and was implemented in New Jersey in 2011.
New Jersey Powerball is a relatively new addition to the collection of NJ Lottery games, as it was added back in 2010. Following the cross-sell expansion, the state was the first to offer a jackpot, and the winner took home over $211 million. The largest prize won in the NJ Powerball stands at $338 million, and it was won by a Dominican immigrant earlier this year.
The Best Offer of NJ Daily Lotteries
Those who play the Lottery New Jersey get to choose between weekly games and daily ones, and the vast majority favors the latest. Granted they don't offer the same staggering amounts as let's say NJ Powerball, the odds of hitting the winning combination are much better. State residents get to choose between four daily games, with New Jersey lottery having one of the best offers.
Pick 3 has no secrets for savvy lottery players as it has been around for almost 40 years, 12 years before Pick 4 New Jersey was introduced. The highest payout is awarded to those who play a straight, which implies matching all three digits in order, with the next in line being the wheel. New Jersey Pick 3 also presents players with the option of choosing a box, a pair, or a split with the minimum play being $.50 in each case. The maximum payout that one can hope to win is $250, although the average stands at $38.
Pick 4 NJ is a more recent addition but also a game with an impressive history, and it is slightly different to Pick 3 New Jersey as there are only two ways of winning. Players pay the flat amount to $.50 and can choose to match all four digits in a given order for a straight bet or any order if they opt for the box wager. Many choose to combine the two bets and accept the fact that they will have to pay a total of one dollar because the straight payout exceeds $2000, which is an excellent return on investment.
The third game in the Lotto NJ Pick collection is New Jersey Pick 6, which is not exactly a daily game because it takes place on Mondays and Thursdays. There are many similarities between Pick 6 NJ and a traditional Lotto game, with six balls being extracted from a plastic bubble containing 49 of them. The jackpot starts at $2 million, and whenever players fail to hit the winning combination, it is rolled over with a minimum of $200,000 being added. It exists in this form since September 2000, and the minimum payout is about three dollars for matching three Pick 6 numbers.
Jersey Cash 5 is a successful hybrid between New Jersey lottery Pick games with each betting slip costing exactly 1 dollar and draws taking place every day. New Jersey Cash has a 5/40 matrix, and the first prize is, in fact, a progressive jackpot, which means that winners can expect to collect millions. Second-tier prizes were also boosted in September 2003 when the introduction of two more numbers slightly altered the rules of the game.
New Jersey Lottery Number Generator