Multi-Match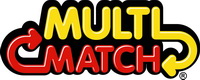 Site URL:

mdlottery.com

Days Played:

Monday and Thursday
Multi-Match Review
Multi-Match is a lottery game offered under the Maryland Lottery together with other games such as Bonus Match 5, Mega Millions, Powerball, and 5 Card Cash Pick 3/Pick 4 Racetrax among others. For as low as $2, players can get the opportunity to play 18 numbers which give them four easy way to match and win a prize. The players select their first line of 6 numbers and automatically receive two additional lines of 6 randomly selected numbers giving them a total of 18. Every line gives them one chance to win and a fourth extra chance comes by combining the matches in all three lines.
How do I check the latest USA Powerball results?
From the pool of 1 to 43 numbers, the lottery draws six numbers every Monday and Thursday. If you successfully match anything between 3 and 5 numbers in a single line, you can win up to $1,000 for that specific line. On the other hand, if you match between 5 and 18 numbers in all three lines considered together, you can win an extra amount of up to $2,000. If you match all the six numbers on any given line, you will win a jackpot that begins at $500,000 and goes up every time there is no winner until it is finally won.
How to Play Multi-Match Lottery?
Every Multi-Match playslip has a total of 5 games. Since each game costs $2, playing all five games will cost $10. Below are the steps in playing this lottery game:
Picking the Numbers
As mentioned earlier, a play comprises 18 numbers, the first 6 of which you select and mark. As you choose, it is recommended you make a heavy vertical mark through each number. You can either use black or blue ink or even a pencil. In the event you make a mistake while marking, it is recommended that you don't erase but simply continue marking the remaining open games on your playslip. When you pick the first 6 numbers, you will receive 2 randomly selected additional lines of 6 numbers each making a total of 18. If you don't want to manually pick your numbers, they can be randomly generated through the Quick Pick system as long as you clearly mark the Quick Pick box at the bottom of every game you want to play.
Playing the Same Numbers
In case you have a special set of numbers you want to play over and over again, you do not have to buy a ticket each time, but rather on your playslip, mark the Number of Draws box or alternatively indicate on the Draw Day box where applicable. You can play the same numbers up to 10 draws consecutively.
Double Checking Your Picks
When you pick your numbers and before you give the lottery retailer your playslip for processing, cross-check to ensure the numbers selected are those you want to play. It is your responsibility and not the retailer's to ensure the playslip represents the number you want to play and the drawings you want to be entered for. Bear in mind that Multi-Match tickets cannot be voided or canceled after processing.
The Odds of Winning Multi-Match
For every Multi-Match drawing, the lottery officials will announce the cash option value and the estimated jackpot annuity. The advertised amount is the prize amount paid out to the winner of the jackpot. In case they are multiple winners, the jackpot will be divided amongst them in the same ratio.
Jackpot winners have the option of receiving their prize as a single cash payment or in the form of annuities that spread to 25 equal installments. If the winner doesn't select the cash payment method within the duration of 60 days following the validation date, the lottery will automatically pay him or her in annuities. After the drawing, a winner has 182 days to claim his prize.
As indicated, players can win in two different fronts; the first is by matching on the individual lines of 6 numbers each and the second is by matching on multiple lines.
Matching on Single Line
If a player matches 6 out the 6 drawn numbers, they win the jackpot and the probability of winning per line is 6,096,454 while the probability of winning per $2 ticket is 2,032,151.70. If the player matches 5 out of 6 drawn numbers, they win $1,000 and the probability of winning this per line is 27,461.50 while the probability of winning per $2 ticket is 9,154.20. Matching 4 out of 6 numbers gives the player a $20 prize with the probability of winning per line being 610.30 while the probability of winning per $2 is 203.80. The last prize in matching on a single line is $2 and it goes to the player(s) who successfully match 3 out of the 6 drawn numbers. The probability of winning per line is 39.20 while that of winning per $2 ticket is 13.40.
Matching on Multiple Lines
When you match 10 numbers and above out of the 18 numbers, you will receive $2,000 with the probability of winning per $2 ticket being 168,239.70. Matching 9 out of the 18 numbers entitles you to a prize of $500 with a probability of 15,098.40. Matching 8 numbers gives you $100 with a probability of 1,740.20. Matching 7 numbers entitles you to a prize of $20 with a winning chance of 272.50. Matching 6 numbers gives you $7 in prize at a probability of 58. Lastly, if you match 5 out of the 18 number drawn, you stand to win $2 at an approximate probability of 16.9 per $2 ticket.
| | |
| --- | --- |
| Match | Odds |
| 6 | 1 in 6,096,454 |
| 5 | 1 in 27,461.50 |
| 4 | 1 in 610.30 |
| 3 | 1 in 39.20 |
Multi-Match Prize Breakdown
If your winning ticket entitles to a prize of up to $600 you can redeem it at any Maryland Lottery retailer. Winning tickets valued at $5,000 or less can be redeemed at any Maryland Lottery XCAP location which was previously known as Agent Plus. If your winning tickets have a value of $25,000 or less, you can either redeem them at any of the two Maryland Lottery Customer Resource Centers. All winning tickets that have a value of over $25,000 should be redeemed at the Maryland Lottery Customer Resource Center in Baltimore only. If your claim is valued above $25,000, you should allow for at least 15 business days for the processing to be completed.
When cashing a winning ticket of an amount above $600, you should provide a photo ID proof that you are 18 years of age and above in additional to your Social Security number. Other documents you may present during the claiming of prizes include a military ID, medicare ID, health insurance card, driver's license as well as a Social Security administration original signed card.
For taxation purposes, prize payments amounting to over $5,000 will be charged as follows: federal tax at 25%, state tax applicable to only Maryland residents 8.75%, and non-Maryland residents will be charged state tax at a rate of 7.50%.
| | |
| --- | --- |
| Match | Prizes |
| 6 | Jackpot |
| 5 | $1,000 |
| 4 | $20 |
| 3 | $2 |
Multi-Match Number Generator