Mega Sena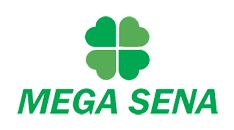 📅
Days Played:
Wednesday and Saturday
🗓️
Latest Results:
10-04-2021 8:00pm BRT
Mega Sena Winning Numbers
Mega Sena is a 6 number lottery game. To win R$33 Million Mega Sena jackpot, you have to match 6 main numbers.
Mega Sena Past Results and Winning Numbers
The Mega Sena result archive contains the results from 11-03-1996 8:00pm BRT up to the last ones. You only need to select the right date from the list.
DRAW DATE
:
WINNING NUMBERS:
Saturday 10th April 2021, 8:00pm

14

21

22

29

35

46

Thursday 8th April 2021, 8:00pm

10

15

21

24

29

45

Tuesday 6th April 2021, 8:00pm

31

32

39

42

43

51

Saturday 3rd April 2021, 8:00pm

05

09

11

16

43

57

Wednesday 31st March 2021, 8:00pm

19

28

30

34

40

51

Saturday 27th March 2021, 8:00pm

03

10

25

36

51

58

Wednesday 24th March 2021, 8:00pm

07

30

31

41

50

56

Saturday 20th March 2021, 8:00pm

06

18

25

30

42

54

Wednesday 17th March 2021, 8:00pm

03

19

34

41

48

53

Saturday 13th March 2021, 8:00pm

09

17

38

41

49

55
Mega Sena Prizes
The Mega Sena features 3 prize divisions. To win any prize in Mega Sena , you have to match 4 numbers. Chances to hit the Mega Sena jackpot are 1: 50,063,860. To see all the Mega Sena odds, go to the REVIEW tab.
| Divisions | Match | Payout per Winner |
| --- | --- | --- |
| 1 Prize | 6 | R$0.00 |
| 2 Prize | 5 | R$42,932.72 |
| 3 Prize | 4 | R$989.23 |
Mega Sena Hot and Cold Numbers
Mega Sena hot numbers are the lottery numbers that appear the most in drawings. Mega Sena cold numbers are the numbers that appear infrequently. Some lotto players choose them specifically because of the frequency, believing that their reappearance in Mega Sena results is only a matter of time, while others stay clear.
Choose the range of years for checking Hot and Cold numbers:
Mega Sena Jackpot History
The jackpot history tool will enable you to see the changes in the biggest Mega Sena jackpots over time. Use the data to carry out analysis, comparisons and predictions for the next Mega Sena jackpot.
Play Mega Sena Now
Mega Sena Review
The Mega Sena frequently generates young and fresh multimillionaires, are you the next one!? Read more and start thinking about your lucky numbers, because this is the draw for you!
The Mega Sena is the most popular and largest lottery draw held in Brazil, with the highest winning odds. The draw takes place every twice a week on every Wednesday and Saturday at 2.00 pm. For participating you need to place a minimum bet of six and a maximum bet of fifteen numbers from 1 to 60.
By increasing the numbers you also increase your winning odds. The game can be played by purchasing lottery tickets for the same through a retailer or via Internet. Although this lottery game may be played in a slightly different manner as compared to the normal ones, those who are participating for the first time, would get a lot of help in understanding the game as a step by step detailed instructions about the rules of the game is provided at the back of the ticket.
The Brazilian Mega Sena lottery is actually the nation's lottery in South America and is also undoubtedly, the most famous lottery adventure on the continent.
In reality, this unique Brazilian lottery game is very massive plus popular that it's even favorites among participants external to South America with lots of lottery gamers globally enjoying the Mega Sena.
Mega Sena Rules
Brazil's Mega Sena rules are quite simple. The game is played by selecting pairs of balls from 2 spherical cages with an intention of forming a 2 digit number to be matched on the player's ticket. Each of these balls has numbers printed on them. One cage has balls with numbers from 0 to 5 while the other cage has balls with numbers from 0 to 9.
Winners of Mega Sena Brazil are always rewarded through cash payment, whereby every first time player is allotted a welcome bonus in the form of one free ticket with the purchase of one.
The Odds of Winning Mega Sena
The chances of someone winning the jackpot in Brazil's Mega Sena Lottery are 1 in 50.06 million. One has to match all the 6 numbers to get his hands on the jackpot. For second tier prizes the probability comes down to 1 in 154,518.

| | | |
| --- | --- | --- |
| Match | Odds of Winning | Estimated Prize Fund |
| 6 Numbers (Jackpot) | 1 in 50,063,860 | 35% |
| 5 Numbers | 1 in 154,518 | 19% |
| 4 Numbers | 1 in 2,332 | 19% |
Mega Sena Prize Breakdown
The Mega Sena prize fund is made of 46% of the total ticket sales (before tax), with the other 54% of lottery income going towards social causes.
| | |
| --- | --- |
| Match | Estimated Prize Fund |
| 6 Numbers (Jackpot) | 35% |
| 5 Numbers | 19% |
| 4 Numbers | 19% |