Match 6 Lotto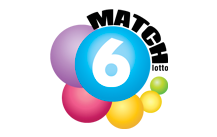 Site URL:

www.palottery.state.pa.us

Days Played:

Monday and Thursday
Match 6 Lotto Review
Match 6 Lotto is a lottery game run by Pennsylvania Lottery and gives the players lots of ways to match winning lottery numbers and an opportunity to walk away with up to 4 lottery prizes in every game. Pennsylvania Lottery happens to be the only state lottery, which designates its entire proceeds to programs that are of benefit to older residents. To date, the PA lottery players have been able to contribute over $24.7 billion towards programs such as Senior Centers, Property Tax Rebates, Free and Reduced Fare Transit, Low Cost Prescription Drugs and many other programs. Since its establishment on August 26th, 1971, the lottery has been offering innovative games to players and amazing opportunities such as those presented by Match 6 Lotto.
The starting jackpot for Match 6 Lotto is $500,000. If not won, the jackpot grows until a player picks the right combination of winning numbers. In the case of more than one winner, the winning players will split the jackpot prize.
Every Monday and Thursday, draws for Match 6 Lotto is held as from 6.59 p.m. Players and lottery fans can follow up the draw proceedings on a number of channels all over Erie, Harrisburg, Johnstown, Philadelphia, Pittsburg, Scranton, and other cities.
How to Play Match 6 Lotto
Just like the other lottery games, you need to buy a ticket at any PA lottery retailer for you to begin your journey into participating in Match 6 Lotto. The playslip allows you to play up to 5 panels and each game costs only $2. As the player, each Match 6 Lotto game panel gives you a chance to pick 6 numbers from a range of 1 to 49. However, if you don't feel like picking manually, there is a quick pick option where your winning numbers are randomly generated by a computer system. In every Match 6 Lotto game grid played, you will be given two additional sets of 6 numbers that are randomly generated by the computer. This simply means, for every play entered, you get 18 numbers in play.
When buying your ticket, you have to indicate the number of draws you want to play. The playslip gives you up to 26 draws which you can enter in advance, therefore save you the time and the inconvenience of going to a retailer every now and then to be entered into a draw. Before you leave the premises where you have bought your ticket, ensure you cross-check all the details and verify that the information is eligible and correct. This is because any errors thereafter will not guarantee you a new ticket hence a loss.
Be on the lookout for PA lottery results. You can do this in a number of ways, including watching the Match 6 Lotto evening drawing live on TV every Mondays and Thursdays, subscribing to lottery RSS feeds, or better still visit the lottery VIP players club where you can sign up for text messages and email alerts for the winning lottery numbers.
The Odds of Winning Match 6 Lotto
Match 6 Lotto gives you up to 4 ways through which you can win prizes in the lottery. The first category is to match all the 6 winning numbers, where you win the jackpot. The probability of winning the jackpot based on past events is 1:4,661,272. The second prize category goes to the player or players who match 5 of the 6 drawn numbers correctly. The prize for this is $1,000 and the probability of winning is 1:18,067. The third category is won by matching 4 out of the 6 winning numbers and the probability of winning this $20 prize is 1:344.47. The last prize category in Match 6 Lotto is $2 and you have to match 3 winning numbers to get this. The probability is 1:19.22.
A winning ticket in Match 6 Lotto is entitled to the highest prize as per the number combination as well as the highest prize won by the numbers in the combined game. The prize schedule for the combined game has 7 prize categories with different odds. In the first category, the player has to match 10 or more winning numbers in order to win $2,500 and the probability for this is 1:597,303. The second prize category is $1,000 and goes to the player who matches 9 winning numbers. The third category is $50 obtained by matching 8 winning numbers. the rest of the categories are $25, $10, $5, $2 and to win them you have to match 7, 6, 5 and 4 winning numbers respectively.
| | |
| --- | --- |
| Match | Odds |
| 6 | 1 in 4,661,272 |
| 5 | 1 in 18,067 |
| 4 | 1 in 344,47 |
| 3 | 1 in 19,22 |
Match 6 Lotto Prize Breakdown
All Match 6 Lotto prize payments are made as lump sum cash payments including the jackpot. After confirming your numbers have won, the first step you need to take is to complete the back of your ticket to include your phone number, name, and signature. This is because every lottery ticket is a bearer document which means whoever possesses it legally owns it, hence the need to sign it off.
If you have won any amount up to and including $2,500, you can get your cash payment from Pennsylvania lottery retailers. If your prize is $600 and above, you will first be required to fill a claim form which you then send it off to PA lottery headquarters. The form is available at any licensed lottery retailer, in any of the PA lottery area offices as well as online. If your winnings are over $2,500, the PA lottery will send your prize within 4 to 6 weeks. However, if your claim is received in December, it will be processed at the start of the New Year to ensure the tax forms and the prize payments pick the same calendar year.
You have up to 12 months from the date of a drawing to pick your prize. The claims must be submitted to the lottery retailer within 180 days following a drawing. The PA lottery maintains a list of the instant games which have ended on its website to help you confirm your winning numbers and other details to help you successfully claim.
| | |
| --- | --- |
| Match | Prize |
| 6 | Jackpot |
| 5 | $1,000 |
| 4 | $20 |
| 3 | $2 |
Match 6 Lotto Number Generator