Lucky Links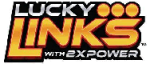 Site URL:

www.ctlottery.org

Days Played:

Daily
Lucky Links Review
Connecticut State Lottery came into operation in 1971 thanks to John A. "Tony" Miscikoski. In his capacity as a state representative, Miscikoski who was also known as the father of lottery presented legislation which sought to authorize lottery sales in Connecticut. Ever since, Connecticut State Lottery has grown and currently has 9 games amongst them Lucky Links which has both day and night draws.
Playing Lucky Links
Lucky Links is a game that is fun and easy to play. It is drawn twice daily and when combined with 2XPOWER, gives players big chances of winning. To play Lucky Links, you have first to locate a CT Lottery retailer within your area. There are many retailers all over Connecticut and you can easily locate one near you. If you are not quite sure of how to go about this, visit the official CT Lottery website and check out retailers from there.
You have an option to play Lucky Links only and this will cost you $2 per ticket. If you add 2XPOWER, it will cost you an extra dollar, making them $3 per ticket. You can either manually pick the 8 numbers required out of a pool of 1 to 22 or do a day or night Quick Pick. In the case of a Quick Pick, you will not be required to fill in the playslip.
The playslip has 5 panel areas (Panel A to E). In addition, at the bottom of the panel, there are void boxes. If you happen to mess up when selecting your numbers on a given panel, just tick the void box for that respective panel. Do not cancel or erase the numbers selected because this will interfere with the entire ticket. On the side, there is the advance play box which you are supposed to tick if you are interested in advance draws. After saying yes to advance plays, then proceed to pick the number of draws you are interested in.
Once you are done picking the numbers and have confirmed that indeed they are the numbers you want to enter the play with, hand over your slip to the retailer who will generate a ticket for you.
Lucky Links Tickets
Your Lucky Links ticket has the date of purchase as well as the draw date. It also has a 16-digit unique serial number which identifies your ticket. If you pick the ticket through Quick Pick, it will indicate QP alongside the selected numbers on your ticket. If you buy tickets for 26 consecutive advance draws together with the advance action option, you get 1 draw for free.
Ensure that the printed ticket matches everything you have selected before proceeding. You should also sign the ticket at the back so as to authenticate it. Tickets are bearer documents and if you lose it without your sign on it, someone else can pick it, sign it, and present it to claim a prize if it wins.
Keep your ticket safely awaiting the draw. Defaced tickets may either be rejected when presented for prize claims or they may delay the claim process as they have to be verified through other instruments.
Replaying Your Ticket
It is super easy to play your numbers again. The replay option does this for you. What you do is to give your retailer your game ticket and tell him replay. He will then generate a new ticket for you with the same numbers and amount. To show that your ticket is a replay ticket, it will have "R" printed on it. This option is not available for all CT lottery games, but Lucky Links is one of the games with this option.
Lucky Links Draws
As indicated earlier, Lucky Links has two draws (Day and Night drawings) held daily. Day drawings are held at 1.45 p.m. and televised live on WCCT-TV. On the other hand, night drawings are not televised, but held at 10.17 p.m. You can view Lucky Links drawings right from the CT Lottery website after they have aired.
After the draw, compare your numbers on the ticket with those drawn. The play grid usually has a $ sign in the center, which is cold a free spot. If you link two or three numbers, plus the $ sign in either a straight, horizontal, or vertical lines, you can win a prize. If you make 8 lines, you get an opportunity to win $50,000 dollars.
If you power up your ticket with 2XPOWER, you double your prize in case you make 3,4,5, or 6 lines.
Lucky Links Odds & Prize Breakdown
As said earlier, Lucky Links can be played with or without the 2XPOWER option. The difference when it comes to payout is that the prizes with the 2XPOWER are double those without except for the $50 prize and the prize for matching two lines which are not doubled.
The payout without 2XPOWER is as follows.
Matching 7-8 lines wins you the jackpot, which is $50,000. In case of more than one winner, the prize is split amongst them. The odds of winning this are 1:319,770.
Matching 6 lines wins you a $1,000 at odds of 1: 5,710.2.
Matching 5 lines wins you a $100 at odds of 1: 1,343.6.
If you match 4 lines, you get $50 and the odds in this category are 1:292.8.
Matching 3 lines wins you $10 at odds of 1:45.1.
The last prize category is that of matching 2 lines and this wins you $5 at odds of 1:10.8.
The 2XPOWER prize, which is applicable in only 6,5,4, and 3 lines is $2,000, $200, $100, and $20 respectively. The overall odds of winning Lucky Links are 1:8.4.
Claiming Your Prize
If you haven't signed your ticket at the back, kindly do so to establish ownership.
If you win a prize up to $599, you claim it directly from your CT Lottery retailer.
Prizes between $600 to $5,000 should be claimed at any of the CT Lottery High-Tier Claim Center.
Prizes which exceed $5,000 should be claimed at the CT Lottery headquarter. The same applies to the jackpot prize.
Prizes must be collected 180 days from the drawing date. Failure to do so will annul the prize, which means you can't collect it. It is important to play responsibly and in case you have or know someone who has a gambling issue, contact CT Lottery on 1-888-789-7777.
| | |
| --- | --- |
| Lines | Prize |
| 7-8 Lines | $50,000 |
| 6 Lines | $1,000 |
| 5 Lines | $100 |
| 4 Lines | $50 |
| 3 Lines | $10 |
| 2 Lines | $5 |
Lucky Links Number Generator