Lotto Supa 6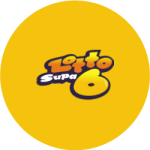 Site URL:

www.guyana-lottery.com

Days Played:

Wednesday and Saturday
Lotto Supa 6 Review
Lotto Supa 6 is a game offered by Guyana Company Limited. It is a number selection game where a player picks either manually or through the Quick Pick system 6 numbers from a group of 28 per panel. Guyana Company Limited has been in existence in Guyana for over 20 years and in the course of its operations, it has paid out millions in prizes and continues to extend all over the country. It is also a key player in supporting society through donations and sponsorships. Therefore, taking part in Lotto Supa 6 is not just for personal benefit, but also as a contribution to society.
Check out the latest USA Powerball results
How to Play Lotto Supa 6
This lottery game has lots of agents who participate in the selling of tickets to people who want to take part in the game. The first step is for you to find an agent near your place of residence or work. There are over 60 Guyana Lottery agents in the country and depending on where you stay, you can find one right near you. From the official website, you can filter agents by location. There are agents in Berbice, Georgetown, East Bank Demerara, Essequibo, and East Coast Demerara.
Bear in mind that Lotto Supa 6 draws are done on Wednesdays and Saturdays. If you want to take part, then get your ticket early before the counters close.
Once you get to the agent of your choice, you will be given a play slip with several panels containing numbers ranging from 1 to 28 per panel. Out of each panel, you are supposed to only pick 6 winning numbers. Depending on the number of plays you want to participate in, you can mark as many play areas as you want.
In case you make a mistake while marking a number in a play area, there is a void checkbox under each panel. Ticking the void box nullifies your selection for the entire panel and as such, it won't be considered during ticket generation.
Apart from picking your numbers through the manual system, you can also use the Quick Pick system. On the play slip, there is a Quick Pick checkbox per panel. Marking this checkbox means you have given the agent express permission to generate your winning numbers through the Quick Pick system for that specific panel only. You can play a mixture of both manual picking and Quick Pick on the same play slip.
There is also the advance draw checkbox which allows you to play the same numbers for several draws. Just mark the number of draws you want to participate in. Remember, they are consecutive draws.
Once you pick your numbers and confirm that indeed they are the ones you want to play, you can now hand over the play slip to the agent who will generate the ticket for you. This is the evidence that you have entered for the specific draw you have chosen. The generated ticket will have a serial number which makes it unique. Also, the ticket has the draw date, the numbers you have selected, and the pricing.
Once you receive the ticket, it is advisable that you sign it on the back. This is important because, in the event of loss, no one can pick it and use it to claim any prize it may have won. On the contrary, if you don't sign it anyone coming across it can actually sign it and use it to claim a prize. This is because a ticket is a bearer document. Also, you need to take care of the ticket so that it does not become defaced. Any distorted ticket may delay the prize claim process or it may even be rejected altogether.
The Odds of Winning Lotto Supa 6
As pointed out earlier, Lotto Supa 6 draws are held on Wednesdays and Saturdays. During the draw, 6 numbers are randomly picked using a machine. Depending on how you match the picked numbers to your winning numbers, you may stand a chance to win a prize. There is usually a bonus ball that is also drawn and a free ticket letter.
The free ticket letter draw is usually conducted at the same time the main draw is taking place. Every ticket that is given to you has a letter printed on it from A to O. To win in the free ticket letter draw, the letter on your ticket must match that which is drawn. The free ticket you win is valid for the next upcoming draw.
If you match all the 6 numbers in the main draw, you win the jackpot. This is not the only prize category, there are several others under it. If there are more than one winner in the jackpot prize category, the prize will be subdivided equally among the winners. If you match 5 of the drawn numbers only or match 5 of the drawn numbers plus the bonus ball, you win prizes. The other categories are matching 4 numbers and 3 numbers with the bonus ball.
The only prize categories where the bonus ball is applicable are the match 5 and match 3. The odds of winning in Lotto Supa 6 are 1:376,740.
Lotto Supa 6 Prize Breakdown
There are various ways you can collect your prize if you win Lotto Supa 6. If you are not sure whether your ticket has won a prize or not, you can visit the official Guyana Lottery website, they always update on the site the latest drawn numbers. Alternatively, you can visit the lottery agent you bought the ticket from or any other that is near you to confirm the winning status of your ticket. Dailies also carry the winning numbers for the just concluded draw and you can check it out to confirm.
You can claim your prize at the agent who usually pays out in cash. However, for bigger amounts, you may be referred to either the regional office in Georgetown or Berbice. Jackpots are usually claimed at the head office and you need to provide your identification documents, the claim form, and your signed ticket.
Just like all lottery games, Lotto Supa 6 is to be played responsibly. This means you should prioritize fun and entertainment and always have a budget against which you play. Do not let gambling interfere with your work, family or friends.
Lotto Supa 6 Number Generator