Jumbo Bucks Lotto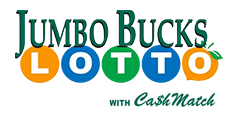 Site URL:

www.galottery.com

Days Played:

Monday and Thursday
Jumbo Bucks Lotto Review
Jumbo Bucks Lotto is a game Georgia Lottery and gives players lots of opportunities to win. The jackpot for this lottery game starts at $1 million and grows after every draw if not won. In addition, Jumbo Bucks Lotto also offers the Cash Match feature which gives players a chance to win prizes up to $500 instantly. The draws are held every Monday and Thursday at exactly 11 p.m. Eastern Time which is equivalent to 0400hrs GMT.
Find out how to claim prizes at Gosloto 749
How to Play Jumbo Bucks Lotto?
In order to be entered for a draw in this lottery game just like in any other, you must purchase a playslip. There are two ways to go about this; manual filling or Quik Pik. In manual filling, you choose 6 numbers in the pool of 1 to 47 and carefully mark them on your playslip. In the case of a Quik Pick, computer software owned by Georgia Lottery will help you choose your 6 numbers. The method you use will depend on your circumstances and preferences.
Each play slip has play areas ranging from A to E. Each play costs $1 and you can play up to 5 times on each playslip. At the bottom of the playslip is a Multi-Draw box which allows you to indicate the number of consecutive draws you want to be entered for. The maximum number of drawings you can play the same numbers for is 26.
Before leaving the retailer's premises, you must verify the accuracy of your ticket because nobody except you will be held responsible for any inaccuracies thereafter. If part of the latex covering the play area has been tampered with or removed, you should not accept the ticket. For security reasons, only buy lottery tickets from Georgia Lottery retailers who are authorized. Anyone approaching you to sell a ticket for cash should be reported to Lottery Security.
Players are encouraged to sign their winning tickets so that they can be traced in case it is lost or stolen. Being a bearer document, when the lottery ticket is not signed, anyone can present it for payment.
Cash Match
Aside from the regular plays, you can opt for a cash match at an extra $1 per play. To do this, you simply mark the cash match boxes in each play area. When you match your lotto numbers to any of the cash match numbers, you win the corresponding cash prize on the spot. In addition, each cash match purchase will have a multiplier that automatically prints on your ticket. This multiplier can increase your cash match win up to 10 times. However, the multiplier applies only to cash match-winning and not any other lotto drawing. The Jumbo Bucks Lotto tickets that have cash matches will be printed on a separate ticket.
The Odds of Winning Jumbo Bucks Lotto
When you match the 6 numbers drawn, you win the jackpot and the odds for this are 1 in 10,737,573. Depending on the number of people who have won it, the players may have to divide the jackpot equally amongst themselves. They can also choose the mode of payment, whether a lump sum cash payment or an annuity paid through 29 years.
Matching 5 out of the 6 drawn numbers wins you $500 with odds of 1 in 43,649. Matching 4 numbers wins you $50 with odds of 1 in 873. The last prize category gives you $5 which you get when you match 3 out of the 6 drawn numbers at odds of 1 in 50.
| | |
| --- | --- |
| Match | Odds |
| 6 | 1 in 10,737,573 |
| 5 | 1 in 43,649 |
| 4 | 1 in 873 |
| 3 | 1 in 50 |
Checking Your Lottery Tickets
In order to check winning numbers, you can pick up a printout from your lottery retailer, which contains all the winning numbers for a particular draw or visit the Georgia Lottery website which is normally updated with the latest winning numbers. Apart from these two methods, you can also call the Player Information Hotline on 1-800-GA-LUCKY or the Georgia Relay Center for the hearing impaired on 1-800-255-0056 TDD.
If you want the winning numbers emailed straight to your inbox, you can sign up for the Georgia Lottery players club at mygalottery.com.
Jumbo Bucks Lotto Prize Breakdown
Prizes of $600 or less can be claimed from any Georgia Lottery retailer, at the Georgia Lottery office or through the mail. You should note that many retailers do not keep huge sums of money with them because of security reasons. This is why they may pay you with a money order or a combination of money order and cash.
Prizes above $600 should be claimed at any Georgia Lottery district office, Georgia Lottery headquarters or through the mail to the Georgia Lottery. The winners must fill out a claim form known as the Winner Claim form issued by Georgia Lottery. In addition, they should present two forms of valid identification which may include a driver's license, US passport, US armed forces identification card, US resident alien card, foreign passport which must have a serial number and duly stamped by the US Immigration and Naturalization Service, Georgia identification card, or US student identification card.
There should be an official document which lists your social security number (SSN) so as to verify the accuracy of the SSN you provided on the winner claim form.
Prizes between $601 and $249,999 are generally paid the same day at the Georgia Lottery headquarters or district offices. Prizes of up to $25,000 can also be paid the same day from Georgia Lottery kiosks situated at the Hartsfield-Jackson Atlanta International Airport.
Winners of prizes between $250,000 and $499,999 can be paid the same day if they arrive at the Georgia Lottery headquarters or district offices by 4 p.m.
Prizes of $500,000 and above are usually paid within 5 to 10 business days from the date of claim and are deposited straight into their bank account electronically.
| | |
| --- | --- |
| Match | Prizes |
| 6 | Jackpot |
| 5 | $500 |
| 4 | $50 |
| 3 | $5 |
Prize Claim by Mail
For prizes of $600 or less, you can fill out the back of the ticket and send it to the official Georgia Lottery Corporation postal address which is 56966 Atlanta, GA 30343. Any tickets lost on the way will be the responsibility of the sender and not Georgia Lottery. The normal processing time for prizes claimed through mail is normally 2 to 3 weeks.
State and federal tax income withholdings will be deducted from prizes in excess of $5,000.
Jumbo Bucks Lotto Number Generator