Jersey Cash 5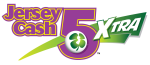 🗓️
Latest Results:
23-03-2023 7:57pm EST
Jersey Cash 5 Winning Numbers
Jersey Cash 5 is a 5 number lottery game. To win $100,000 Jersey Cash 5 jackpot, you have to match 5 main numbers.
Jersey Cash 5 Past Results and Winning Numbers
The Jersey Cash 5 result archive contains the results from 26-09-2007 7:57pm EST up to the last ones. You only need to select the right date from the list.
DRAW DATE
:
WINNING NUMBERS:
Yesterday, Thursday 23rd March 2023, 7:57pm

04

10

14

17

22

Wednesday 22nd March 2023, 7:57pm

12

22

23

30

31

Tuesday 21st March 2023, 7:57pm

07

11

13

14

23

Monday 20th March 2023, 7:57pm

01

14

15

23

32

Sunday 19th March 2023, 7:57pm

03

20

21

29

45

Saturday 18th March 2023, 7:57pm

04

10

16

24

27

Friday 17th March 2023, 7:57pm

09

11

31

33

40

Thursday 16th March 2023, 7:57pm

02

18

23

25

37

Wednesday 15th March 2023, 7:57pm

02

03

05

16

44

Tuesday 14th March 2023, 7:57pm

22

26

30

31

40
Jersey Cash 5 Prizes
The Jersey Cash 5 features 4 prize divisions. To win any prize in Jersey Cash 5, you have to match 2 numbers. Chances to hit the Jersey Cash 5 jackpot are 1: 962,598. To see all the Jersey Cash 5 odds, go to the REVIEW tab.
| Divisions | Match | Payout per Winner |
| --- | --- | --- |
| 1 Prize | 5 | $141,259.00 |
| 2 Prize | 4 | $304.00 |
| 3 Prize | 3 | $10.00 |
| 4 Prize | 2 | $2.00 |
Jersey Cash 5 Hot and Cold Numbers
Jersey Cash 5 hot numbers are the lottery numbers that appear the most in drawings. Jersey Cash 5 cold numbers are the numbers that appear infrequently. Some lotto players choose them specifically because of the frequency, believing that their reappearance in Jersey Cash 5 results is only a matter of time, while others stay clear.
Choose the range of years for checking Hot and Cold numbers:
Jersey Cash 5 Jackpot History
The jackpot history tool will enable you to see the changes in the biggest Jersey Cash 5 jackpots over time. Use the data to carry out analysis, comparisons and predictions for the next Jersey Cash 5 jackpot.
Jersey Cash 5 Review
Imagine standing a chance to win a prize daily for 7 days in a week! It may seem like a fairy tale, but that's exactly what Jersey Cash 5 does. The jackpot is a rolling top prize, which means if it is not won today, it rolls over and becomes bigger and better tomorrow. The starting jackpot is estimated at $75,000 a tidy sum for anyone who cares to play this lotto game. On its own, Jersey Cash 5 has amazing odds for winning. However, if you still want to improve on those odds and multiply your non-jackpot prizes up to 5 times, you can do so with XTRA. What more! You can win up to $500 instantly with Instant Match.
How to Play Jersey Cash 5
As with any lottery game, the first step is to express your interest by buying a ticket. If you don't participate, you cannot win. This is the golden rule of life. With Jersey Cash 5, playing is far much easier as all you have to do is first to locate a Jersey Cash 5 retailer. If you are not quite sure which retailer is near you, head to the New Jersey Lottery's official website and simply enter your zip code and search. You may just realize that next door you have a retailer you can buy your ticket from.
Filling in the Playslip
Once you get to the retailer, you will be given a playslip which you are to fill. The playslip has 5 panels or play areas from Play A to E. Each panel has 43 numbers and from them you are to pick only 5. There are two ways you can pick your numbers, through manual picking or through a Quick Pick.
With the manual picking, you mark your winning numbers one by one for each play area. Remember, one play area constitutes a single play, which means one ticket gives you 5 play opportunities. In the event you make a mistake while marking the playslip in a certain play area, at the bottom right of each area, there is the void button. Simply mark the void button and the whole of that area will be nullified. Do not erase because this will spoil the entire playslip.
If you would rather have your numbers generated by the lottery computer at random, you can ask the retailer for a Quick Pick. Alternatively, on the bottom left of each play area, just before the void button is the Quick Pick button; mark it, and that particular play area will be generated through the Quick Pick option.
You can have a mixture of manual picking and Quick Pick on the same playslip according to your preferences. There is no single method that gives you an advantage over the other and this is primarily because Jersey Cash 5 is a lottery game that is purely based on chance.
XTRA and Instant Match Options
The cost per play is $1. If you want to increase your chances of winning, there are two options available at the bottom of each play area. The first one is XTRA and the second is Instant Match. Both of these are purely optional, but if you participate in them, you can win big prizes.
If you choose the XTRA option, you will increase your non-jackpot prizes in the game and you will win $2 just for matching two numbers. To play this option, you will have to pay an additional $1 thereby paying a total of $2 per play.
The Instant Match option on the other hand will give you an opportunity to win prizes up to $500 on the spot. It will only cost you $1 extra. The lottery terminal automatically picks the Instant Match numbers. To win, your Jersey Cash 5 numbers will have to be matched with the Instant Match numbers. According to the odds, 1 in every 7 players is a winner with Instant Match. You should also be aware that Instant Match is not available with Quick Pick generated tickets or where multiple wagers are printed on a single ticket. Instant Match tickets once issued cannot be cancelled.
Multi Draw
On the playslip towards the top section, there is a multi-draw panel consisting of circled numbers from 2 to 21. In simple terms, you can play the same Jersey Cash 5 numbers for up to 21 consecutive drawings. Note the number of draws you want to be entered for and mark the appropriate number on the multi-draw panel.
As appointed above, the jackpot in this game rolls over. If no player wins it in one draw, it rolls over to the next draw with a much bigger prize.
After you give the retailer your playslip, they will generate for you a ticket. Confirm that the ticket has the numbers you have chosen in case of manual picking and the dates are captured well. Upon confirmation, sign it at the back so that you can authenticate it. Being a bearer document, there is always the risk of loss for unsigned tickets and this means someone else can pick it, sign it, and present it in claiming a prize.
The Odds of Winning Jersey Cash 5
Jersey Cash 5 drawings are held daily as from 7.57 p.m. Eastern Time at the New Jersey Lottery headquarter studios. The only time these drawings are not held is on Christmas Day. The drawings are open to the public and there is an independent certified public accounting firm that witnesses the drawings.
Even though the winning numbers are announced, the rule is that they must be subjected to validation before prizes are paid.
Jersey Cash 5 has 4 prize categories and 4 XTRA options (X2 to X5). In the first category, the players have to match the 5 drawn numbers at odds of 1: 962,598. The prize for this is the jackpot. This prize category has no XTRA option available.
The second category has a prize amount of $500. To get this prize, you have to match 4 out of the 5 drawn numbers at odds of 1: 5,066.
The third prize category wins you $15 at odds of 1: 137. Top win here, you have to match 3 out of the 5 drawn numbers.
The last prize category has no prize in the normal Jersey Cash 5, but has prizes of $2 in XTRA options. To win here, you have to match 2 out of the 5 drawn numbers at odds of 1:11. The overall odds for Jersey Cash 5 is 1:133.
| | |
| --- | --- |
| Match | Odds |
| 5 | 1 in 962,598 |
| 4 | 5,066 |
| 3 | 1 in 137 |
| 2 | 1 in 11 |
| 2 red balls | 1 in 383 |
Jersey Cash 5 Prize Breakdown
As the claimant of a winning ticket in Jersey Cash 5, you are supposed to take your ticket to any retailer for it to be validated. If upon validation your ticket wins a prize of $599 and below, you will be paid directly by the retailer.
Prizes above $599 cannot be claimed at the retailer's place, however, the retailer will validate the ticket and together with you fill out the claim form. The completed form will then be mailed to the Lottery headquarters from where the payment will be processed. It is advisable that as the claimant, you retain a copy of the claim form and the validated ticket before they are sent to the headquarters.
It is important to note that prizes in excess of $5,000 will be charged withholding tax at the federal level. For those prizes in excess of $10,000, a New Jersey gross income tax withholding will be charged. Ensure you claim your Jersey Cash 5 prize within 1 year from the drawing date.
| | |
| --- | --- |
| Match | Prize |
| 5 | Jackpot |
| 4 | $500 |
| 3 | $15 |
| 2 | - |