Dupla Sena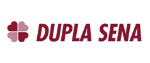 📅
Days Played:
Tuesday, Thursday, Saturday
🗓️
Latest Results:
29-09-2023 8:01pm BRT
Dupla Sena Winning Numbers
Dupla Sena is a 6 number lottery game. To win R$300,000 Dupla Sena jackpot, you have to match 6 main numbers.
Dupla Sena Past Results and Winning Numbers
The Dupla Sena result archive contains the results from 06-11-2001 8:00pm BRT up to the last ones. You only need to select the right date from the list.
DRAW DATE
:
WINNING NUMBERS:
Friday 29th September 2023, 8:01pm

03

11

17

41

44

50

Friday 29th September 2023, 8:00pm

17

29

39

44

47

50

Wednesday 27th September 2023, 8:01pm

14

15

19

31

34

44

Wednesday 27th September 2023, 8:00pm

10

21

28

30

41

43

Monday 25th September 2023, 8:01pm

10

13

21

36

41

46

Monday 25th September 2023, 8:00pm

08

11

36

39

41

44

Friday 22nd September 2023, 8:01pm

08

18

25

31

38

47

Friday 22nd September 2023, 8:00pm

06

10

22

37

41

49

Wednesday 20th September 2023, 8:01pm

02

05

06

24

30

40

Wednesday 20th September 2023, 8:00pm

02

04

06

14

23

25
Dupla Sena Prizes
The Dupla Sena features 8 prize divisions. To win any prize in Dupla Sena, you have to match 3 numbers. Chances to hit the Dupla Sena jackpot are 1: 15,890,700. To see all the Dupla Sena odds, go to the REVIEW tab.
| Divisions | Match | Payout per Winner |
| --- | --- | --- |
| 1 Prize | 6 (Draw 1) | R$0.00 |
| 2 Prize | 5 (Draw 1) | R$3,778.55 |
| 3 Prize | 4 (Draw 1) | R$99.55 |
| 4 Prize | 3 (Draw 1) | R$2.58 |
| 5 Prize | 6 (Draw 2) | R$0.00 |
| 6 Prize | 5 (Draw 2) | R$2,863.74 |
| 7 Prize | 4 (Draw 2) | R$81.86 |
| 8 Prize | 3 (Draw 2) | R$2.33 |
Dupla Sena Hot and Cold Numbers
Dupla Sena hot numbers are the lottery numbers that appear the most in drawings. Dupla Sena cold numbers are the numbers that appear infrequently. Some lotto players choose them specifically because of the frequency, believing that their reappearance in Dupla Sena results is only a matter of time, while others stay clear.
Choose the range of years for checking Hot and Cold numbers:
Dupla Sena Review
This lottery is brought to you by the well-established Caixa Company, which in reality is a bank. They provide another type of lotteries too, but the Dupla Sena is the most distinctive one. At first it might be unclear for any beginner lottery players; however, once you get the hang of it you'll simply love it.
After the great success of Caixa's Quina Lottery and Mega-Sena Lottery they decided to offer something new to the market. With the Quina Lottery having 6 draws a week they had to take a different approach to make the new lottery appealing, to make it a novelty.
And the Dupla Sena Lottery was born. "Dupla" in English means Double. Since they already offered a lottery draw 6 days a week, Caixa decided instead of offering a draw each day to offer a dual draw. This dual draw takes place at the same time, one after the other, therefore increasing the odds of the players to win a prize.
General Rules and Information about Dupla Sena Lottery
The double draws take place on Tuesday and Friday. All you have to do is pick 6 numbers from the range of 1-50. Doesn't matter if you opt for the quick pick option or pick the numbers yourself, you're still eligible for the both draws that take place on the same day. It is like any lottery player's dream; you get a redraw with the same ticket.
Any adult person from any corner of the world can enroll in the Dupla Sena Lottery as long as it is not in violation of any domestic legislation. Caixa's main concern is to pay out the prize; it doesn't care if the winner is from Brazil or some other country.
Depending on the amount of the winnings two different taxes can apply to you. If the amount is equal to or below R$1868/ $568 your winnings are exempted from tax. Beyond this line all winnings are subject to a 27% tax rate. Bear in mind that both categories are still subject to the federal tax of 13.8%. It can reduce the winnings amount by a substantial margin, but a winning ticket is still a lot better than a losing one.
Major Wins with Dupla Sena Lottery
The one memorable Jackpot payout that will be remembered for a long time with the Dupla Sena is the R$11 million. It was claimed in 2010 and ever since then it has not managed to go beyond this figure. That said this is because of the players quite often guessing the 6 winning numbers. The double draw surely has its advantages and that's why lottery players love it.
Revenues and Responsibilities of the Dupla Sena
It's common practice lotteries to fund benevolent projects and government organizations. Dupla Sena along other lotteries provided by the Caixa Organization stream a substantial amount of their revenues towards projects and organizations of this type.
Almost 33% of all revenues are attributed to this kind of purposes. 40% are pooled for maintenance of Caixa itself. The remainder is dedicated to the prize budget. Although it may seem as a low percentage dedicated for prizes, once you consider the popularity of this lottery and the number of players it has it ends up as a pretty generous amount.
Caixa wants to position itself in the eyes of the players as a high reputable organization following world standards. They made a step further and all unclaimed prizes beyond the 90 day period are transferred to the Fund for Student Financing of Higher Education.
The Odds of Winning Dupla Sena
Brazil Dupla Sena lottery has 3 prize categories. In order to claim the Dupla-Sena jackpot, lottery player must match 6 numbers. The chances of someone winning the jackpot in Brazil's Dupla Sena Lottery are 1 in 15,89 million. For second tier prizes the probability comes down to 1 in 60,192. For the third tier prizes the chances of winning Dupla Sena are 1 in 1,120 accordingly.

| | |
| --- | --- |
| Numbers Matched | Odds of Winning |
| 6 Numbers | 1 in 15,890,700 |
| 5 Numbers | 1 in 60,192 |
| 4 Numbers | 1 in 1,120 |
Dupla Sena Prize Breakdown
There are two separate prize breakdowns because in each Dupla Sena draw 2 sets of numbers are drawn. The prizes in each category are parimutuel, meaning that winners in each prize tier share a percentage of a prize fund. The prize fund is made up of 45% of the total ticket sales.
| | | |
| --- | --- | --- |
| Numbers Matched | Percentage Of Prize Fund | Average Prize |
| 6 Numbers | 30% | Dupla Sena Jackpot |
| 5 Numbers | 15% | €1312.41 |
| 4 Numbers | 10% | €20.09 |
| | | |
| --- | --- | --- |
| Numbers Matched | Percentage Of Prize Fund | Average Prize |
| 6 Numbers | 20% | Dupla Sena Jackpot |
| 5 Numbers | 15% | €1210.46 |
| 4 Numbers | 10% | €18.81 |