Daily Grand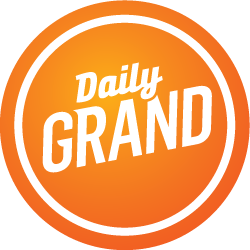 Site URL:

www.olg.ca

Days Played:

Monday and Thursday
Daily Grand Review
Across Canada, people are playing Daily Grand. That may be a bit of an exaggeration since we don't know if everyone in the country is a fan of the game. A local version of Daily Grand, however, is available in just about every province.
This lottery is a fairly new addition to the range of Canadian games of luck. Daily Grand was launched in 2016. Ever since the start, this game has generated a lot of interest. It stemmed from how the big prize is paid out. But let's not get ahead of ourselves – more about that aspect of Daily Grand will come later.
If you want to try out the Daily Grand lottery, but you don't know how to get started, the following guide will acquaint you with the essentials.
How to Play Daily Grand Lottery
You have to do the same thing if you want to participate in a Daily Grand draw in every part of Canada.
OLG Daily Grand, Daily Grand BC, WCLC Daily Grand are the same game. Well, apart from the name. The lottery is called Grande vie in Quebec and Atlantic Canada.
To play, you have to choose five out of 49 main numbers and one Grand Number in the range from one to seven. It's interesting to point out that the Grand Number will be chosen randomly for you by the lottery software in some territories.
The purchase of a single ticket is going to cost you three dollars. In some parts of Canada, add-on games can be enabled via an additional payment. The OLG Daily Grand, for example, features a bonus game called Encore. The game can be enabled for just one dollar, and it provides an opportunity to win additional great prizes (including a one-million-dollar top reward).
Daily Grand drawings take place two times per week – on Mondays and Thursdays.
The way you can choose your Daily Grand winning numbers depends on the territory where you live. In some parts of Canada, online ticket buying is available. You will need to visit one of the many lottery retail venues to get your ticket in other places. You have to be of legal age to play Daily Grand, regardless of the ticket-buying option you choose. There are no restrictions on the nationality of people who can give this game a try.
Daily Grand Lotto Prizes and Winning
Here's the most interesting part of playing Daily Grand.
Daily Grand winners can anticipate some pretty exciting rewards to get the correct numbers for the respective drawing. The top Daily Grand prize is seven million dollars (if you decide to get it as a bulk sum). Alternatively, you can opt for 1,000 dollars a day for the rest of your life.
The odds of winning the big bucks are one in 13,348,188. While these aren't the best odds in the world, the accomplishment is still possible.
In fact, various people have already shown that it can be done.
In 2018, John Wedlock from Peterborough joined the ranks of the big Daily Grand winners. John was at the store shortly before one of the weekly drawings, and he decided to buy a ticket on a whim. He didn't know he'd won the big money until his wife read an article about the jackpot winner being from Peterborough.
Jack opted for the lump-sum payment of seven million dollars. He said he was going to share the money with loved ones.
The lottery's second prize is 25,000 dollars per year for life or a lump sum of 500,000 dollars. Stefan Steinbach and Carly Higo are a couple and some of the latest winners of this prize. They guessed the five main numbers in Daily Grand in the summer of 2020. Just like John, Stefan and Carly opted for the lump sum payment. The couple said they'd use some of the money to buy a new home but also to spoil their cats.
Apart from the top two main prizes, there are seven additional prize tiers. The smallest reward is available to those who match the Grand Number only. The reward is a free ticket, and the odds of claiming that are one in 12.
Prize claim procedures vary from one territory to another. If you win a smaller sum, you'll usually get to claim it immediately at one of the local retail venues. For larger prizes, however, there will probably be a specific procedure that has to be followed. A certain period will also be required for the payment to be processed and issued to the winner.
As far as add-on games go, these also vary by territory. Inquire about such possibilities and the prizes linked to those when you go to buy a ticket.
Checking the Daily Grand Numbers
You can count on several reliable opportunities to check Daily Grand results.
The first and most obvious option is to watch the lucky numbers being drawn live.
Alternatively, visit the website of the local lottery operator. The drawing results will be published there. You can also visit a nearby retail venue to check out the winning Daily Grand numbers and claim your reward.
Finally, you can count on us to always receive up-to-date information about your favorite lotteries. We feature the latest Daily Grand results – visit the respective website section for the information. A detailed results archive is also available for reference purposes. It can help you fine-tune your gameplay approach and choose the lucky numbers that make the most sense.
Daily Grand Number Generator