Cowboy Draw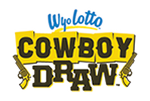 Site URL:

wyolotto.com

Days Played:

Monday and Thursday
Cowboy Draw Review
Cowboy Draw is an entertaining lottery game which is offered by the Wyoming Lottery Corporation. The winning odds are much better compared to other lottery games that are being offered online. With lots of winners and excitement, the jackpot for Cowboy Draw starts at $250,000 and grows after every game until a player wins it. The rules governing this game are complying with the state law. The drawings for the Cowboy Draw are held every Mondays and Thursdays.
How to Play Cowboy Draw?
Playing Cowboy Draw is very easy because there are no lots of procedures involved.
Identifying a Retailer
The first step in playing this lottery game is to make a ticket purchase at the more than 40 retail locations spread throughout Wyoming. Whether you live in Newcastle, Jackson, Sheridan, Gillette, Casper, Alpine, Rock Springs, Cheyenne, Mountain View, Wheatland, Riverton, Burns or any other location within Wyoming, you can easily get a retail location where you can buy your ticket.
If you cannot locate a retailer near you, you can visit the official site of Wyoming Lottery Corporation and you will be able to do an online search based on your location for a list of available retailers.
Picking Your Winning Numbers
Once you pick a retailer, the next stage is to pick your numbers. There are two ways to go about this with the first being through a Quick Pick while the second is a manual pick.
A Quick Pick is normally preferred in instances where you do not want to subject yourself to the process of manually picking the numbers, but just want a random array of numbers. You can either ask the clerk to do a Quick Pick for you or mark the Quick Pick box on the playslip that the clerk hands over to you and the ticket terminal will automatically generate the random numbers.
For the manual pick, you have to select 5 numbers from a pool of 1 to 45. Ensure the numbers are marked clearly to avoid errors on processing your ticket.
A single playslip gives you two winning chances in Cowboy Draw. Ensure you fill out each of the panels and mark your numbers with black or blue ink or a pencil. Never use a red pen for marking because it is against the rules. Whenever you make a mistake in marking your numbers, mark the void box but do not erase.
The tickets for Cowboy Draw cost $5 per ticket which consists of two sets of 5 winning numbers. This gives you two chances every time you play this lottery game.
There is also a multidraw feature where players are allowed to play similar numbers for 2, 3, 4, 5, 10 or 20 consecutive drawings. The only thing you need to do is to mark the respective number of draws on the multidraw box or inform the clerk on the number of draws you want to be entered for.
Your Cowboy Draw Ticket
In order to receive a Cowboy Draw ticket, give the clerk your playslip together with $5 to cater for the 2 chances per play. Ensure your ticket displays the numbers you have been entered for each play, the drawing date, as well as the amount you have paid. It is important to confirm that the numbers as indicated on the ticket are accurate. In case of any error, immediately inform the clerk who can then cancel the ticket and re-issue you with another one. Tickets cannot be cancelled once the complaint is raised after the date of purchase. You must also note that a cancelled Cowboy Draw ticket also renders void any advanced draws entered.
Once you receive your ticket, you have to sign it. Inasmuch as the ticket is your property, without signing it at the back by putting your name, you may lose it to another person in the event of theft or misplacement. The ticket is a bearer document and anyone who picks it can sign it and claim a prize. The name, address and signature will prove that indeed you are the owner.
For you to play Cowboy Draw lottery, you must be 18 years or older. No tickets shall be sold to minors.
Checking Your Numbers to Confirm Winnings
Drawings for the Cowboy Draw lottery game are held every Monday and Thursday at exactly 2 p.m. Mountain Time (MT) which is equivalent to 2000hrs GMT. Ticket sales stop at 1.45 p.m. MT and resume at 2.05 p.m. after the draw. In order to check if you are a winner, go to Wyolotto retailer and confirm.
You can also sign up at Wyolotto.com so that winning numbers can be sent directly to your email or phone. If you visit Wyolotto website, the winning numbers will be displayed for you to confirm. Apart from the above, the local newspaper also carries the winning numbers and you can check if they have posted. If none of the above methods seem appropriate for you, you can pick up your phone and call 855-955-6886 to speak to the customer care team at Wyoming Lottery Corporation.
The Odds of Winning Cowboy Draw
There are 4 prize categories in the Cowboy Draw lottery and winning in any category depends on your number combination with respect to the drawn numbers.
If you match all the 5 drawn numbers, you win the jackpot prize and the odds for this are 1:610,879.75.
Matching 4 numbers gives you a prize of $1,000 with a distribution probability of 1:3,054.65.
Matching 3 numbers which has a probability of 1:78.57 gives you a prize of $20.
The last prize category of $5 goes to the player or players who match 2 of the 5 drawn numbers. The probability for this is 1:6.44.
The overall distribution probability of the Cowboy Draw lottery game is 1:5.98.
| | |
| --- | --- |
| Match | Odds |
| 5 | 1 in 610,879.75 |
| 4 | 1 in 3,054.65 |
| 3 | 1 in 78.57 |
| 2 | 1 in 6.44 |
Cowboy Draw Prize Breakdown
If you have confirmed that you are a winner, you can proceed to claim your Cowboy Draw lottery prizes. Prizes up to $599 can be claimed at any of the Wyolotto retailers or the Wyoming Lottery office.
Prizes starting from $600 and over including jackpots should be claimed at the Wyoming Lottery Corporation headquarters located at 1620 Central Avenue, Suite 100 Cheyenne. You can also email your ticket.
Jackpot prizes will be paid as a single lump sum and in the event there is more than one winner, the prize will be divided equally. If you don't claim your prize in 180 days, it will be considered unclaimed.
| | |
| --- | --- |
| Match | Prizes |
| 5 | Jackpot |
| 4 | $1,000 |
| 3 | $20 |
| 2 | $5 |
Cowboy Draw Number Generator