Cash4Life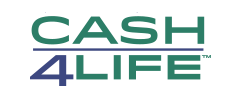 🗓️
Latest Results:
06-12-2023 9:00pm EST
Cash4Life Winning Numbers
Cash4Life is a 5 + 1 number lottery game. To win $1,000 Cash4Life jackpot, you have to match 5 main numbers and 1 bonus number.
Cash4Life Past Results and Winning Numbers
The Cash4Life result archive contains the results from 16-06-2014 9:00pm EST up to the last ones. You only need to select the right date from the list.
DRAW DATE
:
WINNING NUMBERS:
Yesterday, Wednesday 6th December 2023, 9:00pm

08

14

38

40

46

04

Tuesday 5th December 2023, 9:00pm

17

28

49

56

59

04

Monday 4th December 2023, 9:00pm

05

12

14

24

33

02

Sunday 3rd December 2023, 9:00pm

04

07

13

35

45

01

Saturday 2nd December 2023, 9:00pm

12

13

31

36

42

04

Friday 1st December 2023, 9:00pm

14

31

36

56

60

03

Thursday 30th November 2023, 9:00pm

07

14

21

58

60

01

Wednesday 29th November 2023, 9:00pm

01

26

27

51

59

01

Tuesday 28th November 2023, 9:00pm

13

24

44

59

60

01

Monday 27th November 2023, 9:00pm

10

24

35

50

59

03
Cash4Life Prizes
The Cash4Life features 9 prize divisions. To win any prize in Cash4Life, you have to match 2 numbers. Chances to hit the Cash4Life jackpot are 1: 21,846,048. To see all the Cash4Life odds, go to the REVIEW tab.
| Divisions | Match | Payout per Winner |
| --- | --- | --- |
| 1 Prize | 5 + Cash Ball | $1,000 a day for Life |
| 2 Prize | 5 | $1,000 a week for Life |
| 3 Prize | 4 + Cash Ball | $2,500.00 |
| 4 Prize | 4 | $500.00 |
| 5 Prize | 3 + Cash Ball | $100.00 |
| 6 Prize | 3 | $25.00 |
| 7 Prize | 2 + Cash Ball | $10.00 |
| 8 Prize | 2 | $4.00 |
| 9 Prize | 1 + Cash Ball | $2.00 |
Cash4Life Hot and Cold Numbers
Cash4Life hot numbers are the lottery numbers that appear the most in drawings. Cash4Life cold numbers are the numbers that appear infrequently. Some lotto players choose them specifically because of the frequency, believing that their reappearance in Cash4Life results is only a matter of time, while others stay clear.
Choose the range of years for checking Hot and Cold numbers:
Cash4Life Jackpot History
The jackpot history tool will enable you to see the changes in the biggest Cash4Life jackpots over time. Use the data to carry out analysis, comparisons and predictions for the next Cash4Life jackpot.
Cash4Life Review
The New Jersey Lottery was established 2 years after it became legal to operate a lottery within the jurisdiction of the state of New Jersey. Since 1971 this lottery provider has been offering very attractive games with appealing prizes. Certain lottery providers accept they reach the plateau and they stop releasing new games, and new lotteries. Unlike them, the New Jersey Lottery keeps thriving and seeking new creative ways to entertain the players. One of these distinctive lotteries is Cash4Life. At first, it might look like a regular lottery that can be found anywhere else in the world, but once you start going deeper you realize it's a unique, one-of-a-kind product.
What are the prize structures and payouts for Greece Lotto?
What Is It?
Back in 1996, the New Jersey Lottery decided to take on a different approach to paying out the rewards. This whole program was called Win for Life. Ever since then, there have been more than 100 winners who are part of this amazing lottery. Instead of paying out one lump sum to the winner with New Jersey Cash4Life the winner of the main prize receives $1000 every single day. This unique approach made Cash4Life stand out from the competition and become a huge hit overnight. The 2nd prize that must be considered when evaluating this astounding lottery is exactly the same as the main one. However, instead of paying $1000 each day, the winner receives $1000 each week, forever.
It's up to the winners if they want to receive the prizes this way or with one big cash lump sum. Other lotteries won't offer these options to their winners; rather, pay them out in a few installments. With New Jersey Lottery Cash4Life you can opt for the amazing daily or weekly $1000.
How to Play Cash4Life?
The number range is from 1 to 60 and the players have to choose 5 numbers. In addition, the player has to choose one more Cash Ball Number from the range of 1 to 4. If you don't want to go through this process and you don't have any idea what numbers are you going to select there's the Quick Pick option. The system will give you a random set of valid numbers for the next draw. One number combination for the New Jersey Cash4Life costs $2.00 per draw. You can always enroll for more than one draw at once. This will save you from going through the whole buying process all over again.
When Is the Cash4Life Draw?
The draw takes place daily, more specifically around 9:00 pm. Make sure to buy your lottery ticket at least before 8:30 pm. All tickets bought after 8:45 pm will be valid for the next draw, not for the draw that will take place the same night.
New Jersey's Lottery Mission and Objective
55% of the sales revenue contributes to the prize budget, whereas the remaining of it is directed towards different kinds of projects that benefit the community. New Jersey Cash4Life is a part of this program and revenues from this lottery are used for buying meals for children at school, school construction, renovation, scholarships, etc. As one would realize by now the prime focus of this lottery provider lies in the educational system and those who need the funds the most in order to have perfect conditions for development.
The Odds of Winning Cash4Life
Every lottery ticket for the New Jersey Cash4Life has a chance of winning a prize of 1 in 8. This means one in eight tickets will be a winning one. However, this doesn't limit more tickets being prize winning. With as little as $2.00 you will get your place and become a part of this unique lottery.
A winning ticket is one that matches 3 or more drawing numbers. We already mentioned the 1st and the 2nd prize. The 3rd prize amounts to $2,500 dollars. As the matching numbers go down the prize also decreases with the 4th prize being $500, 5th one $100 and it decreases up to the 9th prize level of modest $2.00. Matching 1 number from the Matrix A and another from the Matrix B is a part of the 9th prize level.
| | |
| --- | --- |
| Match | Odds (per $2 play) |
| Match 5 + 1 | 1 in 21,846,048 |
| Match 5 | 1 in 7,282,016 |
| Match 4 + 1 | 1 in 79,440 |
| Match 4 | 1 in 26,480 |
| Match 3 + 1 | 1 in 1,471 |
| Match 3 | 1 in 490 |
| Match 2 + 1 | 1 in 83 |
| Match 2 | 1 in 28 |
| Match 1 + 1 | 1 in 13 |
Cash4Life Prize Breakdown
Cash4Life jackpot lump sum cash:
1 Winner gets $7,000,000
2 to 14 Winners get $7,000,000 divided by the number of winners
Over 15 Winners get $7,000,000 divided by the number of winners
Cash4Life second prize lump sum cash:
| | |
| --- | --- |
| Match | Prize |
| Match 5 + 1 | $1,000 a Day for Life |
| Match 5 | $1,000 a Week for Life |
| Match 4 + 1 | $2,500 |
| Match 4 | $500 |
| Match 3 + 1 | $100 |
| Match 3 | $25 |
| Match 2 + 1 | $10 |
| Match 2 | $4 |
| Match 1 + 1 | $2 |