Cash Ball 225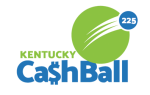 Site URL:

play.kylottery.com

Days Played:

Daily
Cash Ball 225 Review
Kentucky Lottery Cash Ball 225 is a draw game introduced in January 9th, 2017 as a replacement or an update to the old Cash Ball Lotto game that started in 2001. The old game was a 4/33 + 1/31 number format lotto game. This means under the old format, players were choosing 4 out of 33 numbers and one Cash Ball number from a pool of 31 numbers.
This has now changed with the Cash Ball 225 which is a 4/35 + 1/25 lotto game. The jackpot has also increased from the old $200,000 to $225,000. There is a free ticket prize which in the previous game wasn't there thus making the total category of prizes to be 7.  Even if you don't match the 4 Cash Ball winning numbers doesn't mean you can't win a prize.
How to Play Cash Ball 225
Playing this game is very simple because you can do it yourself by marking off the numbers from the playslip or simply walk up to the counter and ask for a Quick Pick. For those who love playing online, there is also an option under the Cash Ball 225.
Playing at the Counter
The cost per play is just $1 and you choose 4 numbers out of 35 and another Cash Ball number from a pool of 1 to 25. You do this through the playslip that the lottery agent gives to you.
Each playslip comes with 5 panels or play areas which means you can have up to 5 entries in the same playslip. On each panel is a box indicated QP which means Quick Pick. If you want the computer terminal to choose the winning numbers for you, you should tick this box and hand over the playslip to the agent.
When doing manual selection of your numbers, ensure you use either blue ink or pencil to mark your selections. In case you make a mistake, do not erase but rather mark the void box for the specific panel and go to the next to mark your numbers.
If you want to be entered for consecutive draws, there is a multi-draw box on the playslip which you are to mark depending on the number of draw entries you want to play. Once your playslip is fully marked, review it once more before handing it over to your retailer. The total ticket cost will be the number of plays multiplied by the number of drawings. You will then be issued with a ticket.
Playing Online
You can also play Cash Ball 225 online by opening a Fun Club Rewards account under Kentucky Lottery. Thereafter, make your deposit into your virtual wallet using a credit or debit card or alternatively you can purchase an iFunds or iGift from any licensed retailer. Because Kentucky Lottery wants you to play responsibly, they have limited the amounts you can wager daily, weekly, and monthly.
The daily limit is $200, the weekly limit is $500, while the monthly limit is $1,000. You must be 18 years of age and above for you to take part in Cash Ball 225.
Once your funds are loaded in the virtual wallet, you can visit play.kylottery.com and click on the play now button so that you can play Cash Ball 225. You then pick your numbers online or you can choose Quick Pick. After that, you select buy now or add to cart and this brings you a summary of all your purchases which include the game you are participating in, the total number of plays you have chosen, and the amount payable.
The Odds of Winning Cash Ball 225
The Kentucky Cash Ball 225 drawings are held daily as from 10.55 EDT and below are the odds of winning.
Matching the 4 numbers and the Cash Ball number wins you the jackpot of $225,000 and the odds for winning the jackpot are 1: 1,309,000.
The second prize category is $2,250. To win in this category, you are to match the 4 numbers without the Cash Ball number. The odds are 1:54,542.
The third prize category has a prize of $225 at odds of 1:10,556. To win here, you have to match 3 out of the 4 numbers drawn and the Cash Ball number.
Matching 3 out of the 4 numbers without the Cash Ball number wins you $50 at odds of 1:440.
Matching 2 numbers and the Cash Ball number bring you $25 at odds of 1:469.
When you match 2 of the 4 numbers without the Cash Ball number, you win $1 at odds of 1:20.
Matching the Cash Ball number and one of the 4 numbers wins you $5 at odds of 1:73.
The last prize category which was not in the old Cash Ball has a free play as the prize. To get this, you just have to match the Cash Ball number and the odds for this are 1:42.
The overall odds of any player winning a prize in Cash Ball 225 are approximately 1:10.7.
| | |
| --- | --- |
| Match | Odds |
| 4 Numbers + Cash Ball | 1 in 1,309,000 |
| 4 Numbers | 1 in 54,542 |
| 3 Numbers + Cash Ball | 1 in 10,556 |
| 3 Numbers | 1 in 440 |
| 2 Numbers + Cash Ball | 1 in 469 |
| 2 Numbers | 1 in 20 |
| 1 Number + Cash Ball | 1 in 73 |
| Cash Ball | 1 in 42 |
Cash Ball 225 Prize Breakdown
There are several ways to find out if you are a winner in Cash Ball 225. Kentucky Lottery has a mobile app over which you can scan your ticket using the check your ticket feature. You can also visit the official Kentucky Lottery website to check the winning numbers for the just concluded draw and confirm whether you have won or not.
The third option is to watch the drawings live and confirm the winning numbers there and then. If you have signed up online, you can have the winning numbers sent to you via Twitter, text, or email. To make this easier, sign up in your Fun Club Rewards.
There is a 24-hour call line, 502-583-2000. You can use this to confirm your winning numbers. The last two options are visiting your retailer and requesting for the winning numbers list or check your local newspaper.
Once you have found out that your ticket is among the winners, you should start the process of claiming the prize right away. Prizes must be claimed within a span of 180 days following the draw date and this can only happen if you have the ticket. Kentucky Lottery does not accept playslips when claiming prizes.
If you win anything up to $600 you can claim your prize right away from any Kentucky Lottery retailer.
When your winnings are more than $600, you have to download, fill, and print off the prize claim form. If the claim is between $601 and $5,000, you can get your prize from authorized cashing agents, Lexington regional office, or the Kentucky Lottery headquarters. Claims of more than $5,000, but less than $50,000 can be claimed from Lexington regional office or Kentucky Lottery headquarters.
All claims above $50,000 including the jackpot must be claimed strictly from Kentucky Lottery headquarters. You can also claim via mail by completing the prize claim form, attaching your winning ticket, a copy of a government-issued identification, and a document containing your Social Security Number. The mail should be addressed to
Kentucky Lottery Corporation,
Claims-Dept. 100
Louisville, KY 40287-0001
You need to ensure that your ticket is duly signed on the back and always keep a copy of the claim form for records purposes.
| | |
| --- | --- |
| Match | Estimated Prize |
| 4 Numbers + Cash Ball | $225,000 |
| 4 Numbers | $2,250 |
| 3 Numbers + Cash Ball | $225 |
| 3 Numbers | $50 |
| 2 Numbers + Cash Ball | $25 |
| 2 Numbers | $1 |
| 1 Number + Cash Ball | $5 |
| Cash Ball | Free Play |
Cash Ball 225 Number Generator