Cash 25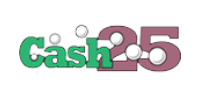 Site URL:

www.wvlottery.com

Days Played:

Mon., Tues., Thurs., Fri.
Cash 25 Review
Cash 25 is a lottery game offered by the West Virginia Lottery with drawings taking place 4 times in a week on Mondays, Tuesdays, Thursdays and Fridays. This means players can have lots of opportunities to win big in this lottery game. Also, playing Cash 25 is very affordable, costing only a dollar per play. The maximum prize for the Cash 25 jackpot is $25,000 and to win it the player or players must correctly match the 6 numbers drawn.
How to Play Cash 25?
There are two main ways of playing Cash 25; playslip option and Easy Pick.
Playslip
In order to play Cash 25, you must obtain a playslip at any of your nearby or favorite West Virginia Lottery retailer. Thereafter, select your 6 winning numbers from a pool of numbers ranging from 1 to 25. Ensure the numbers you have selected are clearly marked on your playslip and do not use red ink for marking. This is against the rules and regulations set by the West Virginia Lottery.
A typical playslip has 5 panels which are labeled A, B, C, D, and E. As a player, you have a choice to play 1, 2, 3, 4, or even all the 5. After marking the playslip, hand it over to the store clerk who will then give you a ticket with the corresponding Cash 25 numbers as you have marked them. Each play costs $1 and the tickets must have been purchased by 6.49 p.m. ET on the day of the drawing. This is equivalent to 10.49 p.m. GMT. Only players that are 18 years and above, can play Cash 25.
Easy Pick
West Virginia Lottery has computer software that automatically picks random numbers for you. This is particularly the case where you do not want to manually pick your winning numbers or you are a beginner and you prefer the computer system to pick for you. On the playslip, instead of choosing the numbers, you should just tick the Easy Pick box and hand over the slip to the retailer who will generate the random numbers through the system. It must be emphasized that Cash 25 like any other lottery game is a game of chance and as such no set of numbers whether manually picked or done through Easy Pick guarantees you a win.
Multi Draws
Cash 25 also gives you an opportunity to enter a series of draws from 2, 4, 8, 12, 16 and 24. You can do this by marking on the appropriate panel on the playslip. These draws are consecutive. Depending on the number of draws you have marked, you have to give the retailer the equivalent amount of money for him to generate a ticket. Every draw has a separate ticket to avoid confusion.
In the event you make an error while marking your playslip in a given panel, you can just check the void box and the particular panel will not be considered during ticket generation.
The Odds of Winning Cash 25
You can check on the West Virginia Lottery site, your retail outlet or newspapers to check whether you are a winner.
Cash 25 gives you lots of opportunities through which you can win because drawings are held 4 times a week. If you match the drawn numbers, you win the jackpot which is $25,000. The odds of winning this jackpot are 1:177,100. If in a single drawing there are less than 11 winners of the jackpot, each one of them will be given $25,000. However, in the event there are 11 or more winners of the jackpot, $250,000 will be shared equally amongst them.
The second prize after the jackpot is $250 which requires that a player or players correctly match 5 out of 6 drawn numbers. From past statistics, the odds of winning this prize are 1:1,553.51.
The third prize is $10 and to win it, you must correctly match 4 out of the 6 numbers picked during the draw. The odds of winning this prize are 1:69.04.
The last prize of $1 goes to the players who match 3 numbers from the 6 drawn. The chance for this is 1:9.14.
| | |
| --- | --- |
| Match | Odds |
| 6 | 1 in 177,100 |
| 5 | 1 in 1,553.51 |
| 4 | 1 in 69.04 |
| 3 | 1 in 9.14 |
Cash 25 Prize Breakdown
According to the rules of West Virginia Lottery, Cash 25 prizes must be claimed by the winner within 180 days following the draw date. Because lottery tickets are bearer documents, players are advised to sign their tickets at the back so as to validate them and prevent cases of fraudsters using the same tickets to lay illegitimate claims.
Also, the lottery does not accept tickets that have been tampered with beyond measure or those that are completely defaced and as such unrecognizable.
Prizes of $600 or less can be claimed at any West Virginia Lottery retailer. While this is the case, no retailer is under obligation to honor a winning ticket. This is because some retailers may not keep huge sums of money with them because of security or liquidity reasons. The good thing is, you are not tied to one specific retailer, but you can always go to the next who may be having a float. If you are in a place where you cannot identify a retailer near you, you can visit West Virginia Lottery website and key in your location to find other retailers who may be around you.
Prizes exceeding $600 should be claimed at the West Virginia Lottery headquarters, which is located in Charleston. You can also make a claim at their regional office in Weirton. For those claiming by mail, they should ensure the ticket is clearly signed on the back, a copy of their photo ID or driver's license attached as well as an official document that has their social security number. Utility bills normally have this number. The mail should also indicate the phone number of the claimant and his return address. All mails must be sent to West Virginia Lottery/Claims, P.O. Box 2913 Charleston, WV 25330. Mails that are lost on their way to the claiming center are not the responsibility of the West Virginia Lottery.
| | |
| --- | --- |
| Match | Prizes |
| 6 | $25,000 |
| 5 | $250 |
| 4 | $10 |
| 3 | $1 |
Cash 25 Number Generator