Badger 5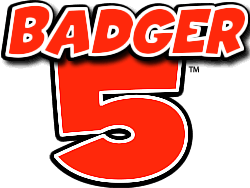 Site URL:

www.wilottery.com

Days Played:

Daily
Badger 5 Review
The Badger 5 is a lottery game played online and forms part of the greater Wisconsin Lottery. It has been played since 2003 and its top prize starts at $10,000 which is rolled over until it is won. Compared to the lotteries in other states within the U.S., Badger 5 is a one-of-its-kind game with higher payouts.
Wisconsin Lottery was legalized in 1988 and it's managed by the Department of Revenue in the state of Wisconsin. This lottery is also part of the multi-state lotto association which is an umbrella body regulating the affairs of lottos in a number of states in the U.S. In addition to Badger 5, Wisconsin Lottery has other games such as the Powerball, Mega Millions, and Supercash among others. Since it was established, this lottery has raised over $3 billion for Wisconsin state.
The History of Badger 5 Lotto
From the time Wisconsin Lottery was established in 1988 until 2003, it was only aired on television on a show that was known as 'The Money Game' where people were given the opportunity to win cash prizes starting from $500. In 1989, Wisconsin Lottery joined Lotto America, a multi-jurisdictional lotto. In 1991, Wisconsin Lottery stated, holding nightly drawings when it introduced Supercash. A couple of years later, Pick 3 and Pick 4 were introduced and in February 17th, 2003 Badger 5 finally came into being. Even though the popularity of Wisconsin Lottery has been overshadowed by a number of powerful lotteries in the United States, Badger 5 still continues to attract massive numbers of players from across the country.
How to Play Badger 5
The first step in getting an entry into Badger 5 draws, the player needs to purchase a panel which comes at a cost of $1 per draw. Then, the customer proceeds to pick 5 different numbers from a pool of 1 to 31 numbers. There are two ways of picking these numbers. The first way is by using the Badger 5 playslip which is readily available at any lottery selling point. After the purchase, you manually select the 5 numbers you consider to be winning numbers. This option is particularly preferred by people who are seasoned players or those who have taken the time to study the patterns and trends over time. However, this doesn't mean that as an entry level amateur, you cannot manually pick your numbers. It goes with your preference.
The second method of picking the numbers is the Quick Pick. This is a much easier and faster way where you allow computer software to generate numbers at random. This is completely a chance event. It is appropriate for beginners and those people who cannot easily make up their mind on the numbers to pick.
You should also consider the number of draws you want to play. You can play anything from 2 to 7 consecutive draws and all you need is to tick the boxes on the panel. For every box filled, you have to pay an extra one dollar. When you receive your ticket, ensure that it is valid and correctly reflects the games you have chosen and the number of draws you have indicated. Remember, you cannot claim a prize with an invalid ticket.
In order to protect your ticket lest someone picks it up and presents it for a prize, ensure you sign it. Purchasing of the tickets should be done by 9 p.m. if you are to be entered in the day's draw. The drawings are held daily after 9 p.m.
The Odds of Winning Badger 5
Badger 5 gives you 4 ways in which to win a prize. To win the Jackpot, you have to correctly match the 5 numbers drawn. The jackpot prize is pari-mutuel which means the taxes and management fees are deducted before the payout is disbursed. In case of more than one winner per category, the prize is shared. In any Badger 5 game, the jackpot prize is guaranteed to be at least $10,000. The jackpot is paid in cash at once and the odds for winning this are 1:169,911.
The second prize of $50 goes to the ticket that matches 4 out of the 5 drawn numbers. The odds of winning this prize are 1:1308. The third prize of $2 is for the tickets that match 3 out of the 5 numbers and the chances of winning this are 1:53. The last prize of $1 is for the player(s) who correctly match 2 out of 5 numbers. The odds of winning this are 1:7.
| | |
| --- | --- |
| Match | Odds |
| 5 of 5 | 1:169,911 |
| 4 of 5 | 1:1,308 |
| 3 of 5 | 1:53 |
| 2 of 5 | 1:7 |
Badger 5 Prize Breakdown
When the draw results are announced, you should re-confirm your ticket on the dailies, online at the Wisconsin lottery website, over the radio or on television. You can collect your winnings from the local retail store except jackpot winnings where you have to send the winning ticket to Wisconsin lottery headquarter together with a copy of your identification documents.
Badger 5 Jackpot Statistics
From its inception, the Wisconsin lottery has paid out over $6.5 billion, which represents 56.51% of its overall revenue. Compensation for retailers have amounted to about $690 million, which have directly benefited Wisconsin businesses. The total number of Badger 5 jackpots that have been won since February 17th 2003 are 4626. The largest jackpot to have been won is $312,000 on May 13, 2013 by Barbara Bedna, a 74 year old woman from Racine County, Wisconsin. The smallest jackpot is $10,000 which has happened 1424 times with the last time being October 18, 2015.
The average jackpot is $39,945 and the largest increase due to jackpot rollovers is $70,000 which occurred on May 13, 2013. The smallest increase so far is $1,000 and it happened 3 times with the last time being December 11, 2011.
There is software that purports to be useful in picking winning numbers for Badger 5. Before spending your money on such software, ensure you verify their authenticity and conduct a background check. In this way, you will avoid cases of fraud which by extension jeopardize your opportunity of winning the jackpot.
| | |
| --- | --- |
| Match | Win |
| 5 of 5 | Jackpot |
| 4 of 5 | $50 |
| 3 of 5 | $2 |
| 2 of 5 | $1 |
Badger 5 Number Generator