2BY2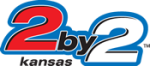 Site URL:

www.kslottery.com

Days Played:

Daily
2BY2 Review
Kansas Lottery was established in 1986 after voters approved a constitutional amendment, which gave their authority to create a state lottery. The mail goal of the state lottery is to generate revenue for the state of Kansas as well as give people an opportunity to play and win lots of prizes through the various games it offers.
There are many games the lottery offers and amongst them is 2BY2. This is a daily game that gives players up to 8 ways of winning a top prize of $22,000. If you play 2BY2 Tuesday and buy a 7 day ticket, you stand a high chance of doubling the top prize, which means you can walk away with about $44,000.
How to Play 2BY2
2BY2 has attracted a lot of players because of the various prizes and the lots of fun that comes with playing the game. If you want to take part in this daily lottery game, the first thing is to buy your ticket. There are many retailers who are part of the Kansas Lottery network from whom you can buy your ticket.
If you are not sure of retailers near you, visit the official Kansas Lottery website and search for a retailer using your city, zip code, or even county. This will give you a list of the available retailers and you may just realize there is one closer to your workplace or residence. The list gets updated every Monday therefore it is important to always confirm on who is in and who is out.
When you get to the retailer, you can ask for a fill out playslip or a Quick Pick. For the manual fill out slip, it has 5 panels or playboards (Play A to E). Filling one board constitutes a single play and costs $1. This means if you fill every panel on your playslip, you will have entered for 5 plays which cost $5. On the side of each panel is the Quick Pick checkbox and the void checkbox. If you want a particular panel to be selected through Quick Pick, you simply check the list box related to it. In case you make an error in selecting your numbers in a panel, use the void box to nullify your selection.
Each panel has two sets of 26 numbers. The first 26 numbers are in the red play area while the second set of numbers is in the white play area. In order to play a board, select two numbers from the first set of 26 and another two from the second set. When marking the numbers, draw a heavy vertical mark through the numbers of interest. Be careful not to use red ink and in the event of an error do not erase, but simply void the panel.
On one end of the panel, there is the multi draw section that gives you the opportunity to enter up to 28 consecutive draws using only a single ticket. Simply check the number of draws you want to participate in and hand over the playslip to the clerk.
If you select Quick Pick, the computer will randomly select the numbers for you. Remember 2BY2 is a chance game and there is no guarantee of winning even when numbers are picked through the Quick Pick option. When handing over the slip also give the clerk the money equivalent to the plays you want to participate in.
2BY2 Ticket
The clerk will then generate a ticket for you based on your selections. The ticket has the 2BY2 logo, to show you that indeed you are taking part in the 2BY2 game and a barcode right underneath it under the bottom of the ticket. When confirming whether your ticket has won a prize, the clerk will scan the barcode and retrieve the ticket information for transmission and verification.
The ticket also has a serial number which makes it unique. The two sets of numbers you have picked appear under the headings red and white to show you exactly what numbers you picked under the red numbers section and the number you pick under the white section. In case you have entered for the 2BY2 Tuesday, it will also be indicated on the ticket. The ticket has a pricing based on the number of plays you have entered for.
It's always important to check the playslip before giving it to the clerk because once the ticket is printed, it cannot be cancelled. It is important you get your numbers right. It helps to sign the ticket at the back so as to authenticate it. This is because lottery tickets are bearer documents and if unsigned, they can expose you to loss. If the ticket is misplaced or lost and someone picks it, they can sign it and use it to claim a prize.
As noted earlier, Tuesday prizes are doubled only for those qualifying plays. For a play to qualify, you have to purchase a ticket for 7 consecutive days or in multiples of 7 consecutive days such as 14, 21 and 28.
The Odds of Winning 2BY2
Drawings for the 2BY2 game are held daily from Monday to Sunday as from 9.30 p.m. If you want to participate in the day's draw, you have until 8.59 p.m. to buy your ticket. The odds for winning in the 2BY2 game are quite fair which means you stand a higher chance of winning. There are two prize schedules; the normal prize chart and the 2BY2 Tuesday prize chart.
Matching 2 red numbers and 2 white numbers wins you the jackpot, which is $22,000 for the normal prize and double ($44,000) for the 2BY2 Tuesday. The odds for winning are 1:105,625.
Matching 1 red number and 2 white numbers wins you $100 and double this amount for 2BY2 Tuesday. The odds are 1:2,200.
If you match 2 red numbers and 1 white number, you still win $100 and $200 if you qualify for the 2BY2 Tuesday. The odds are 1:2,200.
If you match either 2 red numbers or 2 white numbers, you win $3 or $6 for 2BY2 Tuesday at odds of 1:383.
Matching 1 red number and 1 white number wins you $3 or double the amount for 2BY2 Tuesday at odds of 1:46.
If you match either white number or a red number, you win a free ticket or two free tickets for the 2BY2 Tuesday at odds of 1:8.
On the overall, winning a prize in 2BY2 is at odds of 1:3.59. The jackpots may be pari-mutuel, but this only happens if the number of winners is more than 10.
| | |
| --- | --- |
| Match | Odds |
| 2 red balls + 2 white balls | 1 in 105,625 |
| 1 red ball + 2 white balls | 1 in 2,200 |
| 2 red balls + 1 white balls | 1 in 2,200 |
| 2 white balls | 1 in 383 |
| 2 red balls | 1 in 383 |
| 1 red ball + 1 white ball | 1 in 46 |
| 1 white ball | 1 in 8 |
| 1 red ball | 1 in 8 |
2BY2 Prize Breakdown
To find out if you are a winner, you can watch a local TV newscast at 10 p.m. You can also read your local daily the day following the drawing or check your ticket at your nearest Kansas lottery retailer. On the official Kansas Lottery website, there is a winning numbers page that is accessible to everyone and you can use it to confirm if you have won a prize. If you signed up for email notifications through the Kansas Lottery players club, you can as well get to know if you have won a prize. If none of the above ways are appropriate for you and you want a personal confirmation, you can call the Lottery's hotline at 1-800-544-9467.
You have 365 days from the drawing date to claim your prize. Prizes of up to $599 can be claimed from any Kansas Lottery retail location. However, some stores may have limited cash and this means you can be referred to another lottery agent or told to come later to collect your prize.
Prizes of between $600 and $5000 should be claimed at the Kansas Lottery headquarters located in Topeka. You are required to fill a claim form and take along with you a duly signed winning ticket for you to claim your prizes. You will receive your prize the same day.
Prizes of $5,000 and over should be claimed from the Kansas Lottery office. Simply download the claim form from the website or pick one from your local retailer and fill it. In case you are mailing it, ensure to include the ticket. It is always a good idea to keep a copy of your claim documents as secondary evidence in the event of loss. It will take about 7 to 10 days for this to be processed. Withholdings of 25% federal tax and an additional 5% state tax are charged on this category.
| | |
| --- | --- |
| Match | Prize |
| 2 red balls + 2 white balls | $22,000 |
| 1 red ball + 2 white balls | $100 |
| 2 red balls + 1 white balls | $100 |
| 2 white balls | $3 |
| 2 red balls | $3 |
| 1 red ball + 1 white ball | $3 |
| 1 white ball | Free Ticket |
| 1 red ball | Free Ticket |
2BY2 Number Generator