SuperLotto Plus Tips
Last updated on December 19, 2018 by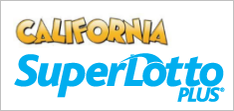 SuperLotto Plus is a California based lottery, which follows more or less a Powerball like structure. Just like any other lottery winning a SuperLotto Plus depends on your luck. But certain things would increase your chances of winning in SuperLotto Plus. Here are some of those SuperLotto Tips.
After you have bought the ticket, make sure that the ticket contains all the five numbers your choice. Since you will have to pick five numbers from 1 through 45, matching which you would win the SuperLotto Plus Jackpot.
Immediately after buying the ticket, sign the back of the ticket immediately. This is to ensure against loss or theft of a ticket. A prize on a ticket goes to the person who signs the ticket and not to the one who buys it. So signing the ticket is an essential thing which you should do as soon as you buy the ticket.
If you win a prize, then make sure that you claim that prize as soon as you can. Winners have a period within which they have to claim their prize. If that period is crossed, then you won't get any money.
Play SuperLotto Plus in a syndicate. Playing in a syndicate or a pool does two things for you. Firstly, it brings down the cost of buying lottery tickets since a member of the playing group will be sharing the cost. It gives you the chance to play with multiple tickets. Secondly, you might win a prize by riding on someone else's luck.
Even if you do not win anything, it is imperative that you don't lose heart. Keep playing, and your luck will undoubtedly change for the better someday.
You May Like