Playing the Oz Lotto Online
Last updated on March 31, 2014 by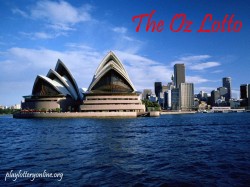 The Oz Lotto is one of the most popular lottery games in Australia. The lotto game was originally part of the Australian national lottery game that rolled out in 1994. It remains the biggest and the most played lottery games in the country. At its start, it used to be played once in a week, but with time evolved to become a Bi weekly lotto game.
The Oz lotto draw takes place every Wednesday and Saturday. At first only lottery players within the boundaries of Australia could participate in the lottery. However, with the advancement of the internet, it is now possible for lottery players to play Oz lotto online regardless of their location on the globe.
Playing the Oz lotto is simple. All the player has to do is pick out seven numbers from a pool of numbers ranging from 1to 45. The narrow pool of number gives the lottery players excellent chances of matching up the winning numbers to the lottery jackpot. The odds of a player matching up all the winning numbers stand at 1 in 45,379,620. These are much better odds compared to world lotteries of a similar caliber such as the Mega Millions whose winning odds are currently at 1:175,711,536.
Players can choose to personally select their lottery ticket numbers or play the quick pick. After you select the numbers to your lottery, ticket all that is left is for you to pay for the ticket. There are numerous online micro payment options available and hence you will most likely get the payment option you prefer. The price of the Australian Lotto online ticket is £ 1.50. This amount is inclusive of the agent commission fees.
You will get a confirmation email confirming that you have bought the lottery ticket. All that is left is to keep your fingers crossed and hope that you will win the jackpot prize. The overall chances of one winning any prize in the lottery stands at 1 in 55 players, therefore you can expect the best from the Oz Lotto online lottery.
You May Like