5 World Cities You Should Live to Win the Lottery
Last updated on December 12, 2019 by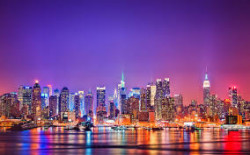 Most people are willing to do pretty much anything to win the lottery and many seek any information that could bolster their confidence. The idea of winning in a city that is widely regarded as lucky for lottery players is such a comforting thought and there are a couple of cities that stand out from the crowd. Comprehensive research on a planetary scale is yet to be produced, but we now have a general idea about the luckiest cities in the United States and the United Kingdom.
Go West to San Diego to maximize your chances
If you happen to live in San Diego, then you can consider yourself lucky as the city ranks on the top of the list when it comes to the luckiest places to be in the US. The reason why you have a better chance to win the lottery if you leave here is that statistically, players won significant amounts in both Mega Millions and Powerball. Not only the frequency of the winnings is impressive but also the amount collected by San Diego residents, with the runner-up being far behind.
Speaking of other cities in the United States where lottery players are more likely to collect a sizable paycheck as a result of playing the lottery, Baltimore, Phoenix, and Wilmington are shining examples. These cities have had multiple jackpot winners in the past and they frequently produce millionaires, significantly more than Las Vegas which is widely regarded as the gambling capital of the US. At the opposite end of the spectrum, we have Tampa Bay, Jackson, and Memphis.
The place to be United Kingdom
If you thought that San Diego has a significant advantage over other US cities, you should know that the small city of Romford is the luckiest place in the UK. Studies show that over the last 17 years, no other city in the United Kingdom came even close in terms of lottery winners, with 300 residents winning tens of thousands of pounds. The statistics are comprehensive and they are not limited to jackpot winners, which is even more impressive given the fact that second-tier prizes don't amount to much.
Since the lottery was introduced almost 2 decades ago, Romford took the lead as the city with the best chances to win the lottery. The next in line is Enfield, a town located north of London while the third on this list is Dartford in Kent, followed closely by Warrington. Among the bigger cities in the United Kingdom, it is worth mentioning Newcastle, Liverpool, and Sunderland. When it comes to the luckiest counties in the UK, it is safe to assume that in the foreseeable future nobody will outstrip Essex which has the highest percentage of jackpot prizes to date.
You May Like