Oregon Megabucks Lottery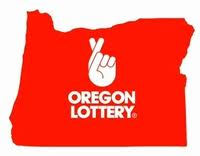 Site URL:

oregonlottery.org

Days Played:

Saturday
Oregon Megabucks Lottery Numbers
Oregon Megabucks Lottery Review
Oregon MegaBucks Lottery Review

Mega bucks are up for grabs in the Oregon MegaBucks lottery game. Before you jump to conclusions, you should know that you can play the Oregon MegaBucks game without ever visiting Oregon. In fact, you don't even need to know where the state of Oregon is for that matter in order to buy Oregon MegaBucks lottery tickets.  All you need to know is that Oregon MegaBucks lottery tickets are now available online and you can buy them.  The Oregon MegaBucks is a popular lottery game in the US and players all over the world are quite happy in knowing they too can play the Oregon MegaBucks lottery game.  Jackpots for this fun lotto style game begin at $1 million and roll upwards until the jackpot is claimed.
Oregon MegaBucks Lottery Rules

Lotterypros.com has Oregon MegaBucks ready for you to buy. Simply visit their site and pick six numbers between 1 and forty-eight. If your chosen numbers match the drawn numbers, it is definitely your lucky night!
Oregon MegaBucks Payment Options
Buying your tickets is simple. You can buy Oregon MegaBucks tickets through making a bank transfer or writing a check. You can also use a credit card (Visa, Diner's Club, Maestro, AmEx, and MasterCard). Skrill (former Moneybookers), JCB, and Giropay - amongst others - are additional payment options you have to buy your lottery tickets.
Oregon MegaBucks Lottery Biggest Jackpot
Saturday at 19.29 PST is the time to try to win the big Oregon MegaBucks jackpots. Find out the odds of winning the Oregon MegaBucks Lottery.
Get in on the action right now and play to win at Oregon MegaBucks Lotto!
Oregon Megabucks Lottery Rules

The Oregon Megabucks is played by choosing 6 numbers out of 48. The game costs $ 1 for two games. The jackpot begins from $ 1 million and grows from there on. The draw takes place 3 times a week. Every Saturday, Wednesday and Monday at 7.29 pm the results are declared. The player must be at least 18 years of age to play. The play slip must be filled in correctly before submission.
The Odds of Winning Oregon Megabucks

In order to win the Oregon Megabucks jackpot, all six numbers must be matched. The odds of that happening are 1 in 12,271,512. The odds of matching 5 numbers are 1 in 48,696. The odds for 3rd and 4th prize are 1 in 950 and 1 in 27 respectively. The overall odds are 1 in 53. The game has steep odds, but is doable for the secondary prizes. Also, in case of the jackpot win, the cash prize will be paid in 25 cash installments.
| | | |
| --- | --- | --- |
| Divisions | Match | Winning Odds |
| 1 Prize | 6 | 1:12,271,512 |
| 2 Prize | 5 | 1:48,696 |
| 3 Prize | 4 | 1:950 |
| 4 Prize | 3 | 1:53 |
Oregon Megabucks Prize Breakdown
Check out the Oregon Megabucks prize divisions and estimated prize for each division in the table below:
| | | |
| --- | --- | --- |
| Divisions | Match | Estimated Prize |
| 1 Prize | 6 | $10,200,000 |
| 2 Prize | 5 | $415 |
| 3 Prize | 4 | $47 |