Clerk Scams Lottery Tickets
Last updated on April 13, 2014 by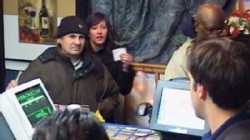 Lottery scams stories are heard everyday. They are part of our everyday life. So many incidents are reported everyday that deal with this issue of lottery scams. One of these incidents was faced by Crystal Adams, who had walked into a gas station to purchase lottery tickets of the 20 Grand Instant Lotteries. These tickets were scratched off then and there. Miss Adams asked the clerk if she had won anything after submitting them. Misty Ann Crawford, the store clerk, took her ticket to the scanning machine.
Unfortunately, the store clerk did not scan the ticket and came back informing Miss Adams that she had only won $2. This was the beginning of yet another lottery scam story. The clerk then took the winning lottery ticket of Miss Adams and validated it at a store a little far away from the gas station. The ticket had won $20,000 and Misty Ann Crawford filled out a claim form for it. Thankfully, Miss Adams found out about this ticket the very next day and reported on this lottery scam story to the Shell station manager.
There was a lot of careful investigation made and the surveillance video from the store revealed how Miss Adams had been scammed by Crawford. The police were informed of this lottery scam story and they immediately acted and delivered the $20,000 to the rightful owner. Crawford was charged with counterfeiting, obtaining property under false pretenses and fraud. She was fined for $6000 and twenty one years in prison.
There was a similar lottery scam story that happened in 2005 in Arizona when Jose Castaneda went to a convenience store to find out if he had won anything from the $ 1.47 million Arizona. When he had handed his ticket to the clerk, Delia Kerr for validation she did not return the ticket or scan it. The grand prize of $ 1 million was collected a few days later by the clerk's sister, but when the officials found out about this they took action and returned the ticket to its rightful owner along with the cash prize after a 3 month search. Both the Kerr sisters were arrested for scamming and fraud.
These are just a couple of incidents related to lottery scams stories. There are plenty of lottery scams that still remain unresolved today. It is either the lottery company that is fraudulent or the retail outlets that keep these lottery tickets. It's best to watch out for such scams before your life too becomes a lottery scam story.
You May Like